Sports
U Mumba register a stunning win against Bengaluru Bulls by scoring 17 tackle points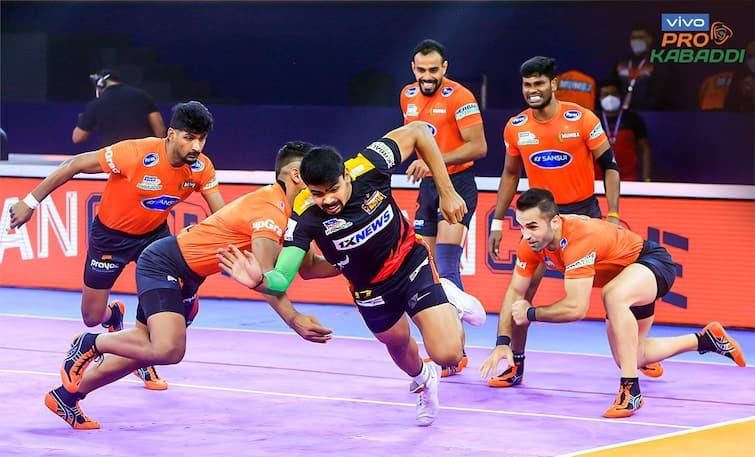 Pro Kabaddi league Season 8, U Mumba vs Bengaluru Bulls, U Mumba defeated Bengaluru Bulls 44-34 in the 78th match of Pro Kabaddi League season 8 played at the Sheraton Grand Whitefield in Bangalore on Wednesday. With this win, U Mumba has reached the fourth position in the points table. This is the fourth defeat for Bangalore Bulls out of the last five matches, although despite the defeat, Bulls remain in the first place. From the very beginning of this match, Mumba made a great start and took a 10-3 lead. Mumba's dominance continued in the second half as well and won the match and made it to the top 4. Pawan Sehrawat completed the 12th Super 10 of the season in this match, while Rahul Sethpal got 8 tackle points.
Atrachali and Rahul give Mumba the lead
Bengaluru Bulls won the toss and invited U Mumba for the first raid. In the first raid, Abhishek Singh opened the team's account by dismissing Saurabh Nandal. Pawan Sehrawat opened the account of the Bulls with a bonus. In the next raid, Pawan Sehrawat was dismissed by Fazal Atrachali and got the second point for U Mumba. U Mumba's scintillating form continued as Mumba allied the Bulls in the 5th minute to take a 9-3 lead. Pawan Sehrawat returned to the field with the team and made the score 7-10 by doing a super raid in the first raid. Saurabh Nandal got the 100th tackle points of his career by dismissing Abhishek. Rahul Sethpal was consistently making good tackles in the defense for Mumba and he completed his high-5. Aman took the tackle and got Mumba all out. Pawan completed his 12th Super 10 by dismissing Fazal. At the end of the first half, U Mumba was ahead 22-20.
Mumba's defense won the match
At the beginning of the second half, the Bulls made their intentions clear by dismissing Pawan. Abhishek Singh completed his Super 10 by dismissing Mayur Kadam and Mahender Singh and brought the Bulls close to All Out. In the next raid, Deepak Narwal was tackled by Mumba for the second time by the Bulls. The last 3 minutes of play were left and Mumba again took an 11-point lead by dismissing Bengaluru Bulls. Rinku performed brilliantly with Rahul Sethpal and did not give much chances to the Bulls raiders. V Ajith Kumar strengthened U Mumba's lead by taking two points. Pawan got 200th raid points of this season by dismissing Atrachali. Pawan Sehrawat was out in the last raid and U Mumba won the match 44-34. In this match, Pawan Sehrawat got 14 raid points, while Rahul Sethpal got 8 tackle points from Mumba.
Pro Kabaddi League: Pro Kabaddi players in the grip of Corona, changes in the schedule and matches of these teams postponed
Pro Kabaddi League: A look at the performance of all the teams so far, Dabang Delhi and Bulls continue to dominate
,