Technology
Samsung launches 110-inch TV, can watch four programs simultaneously on the same display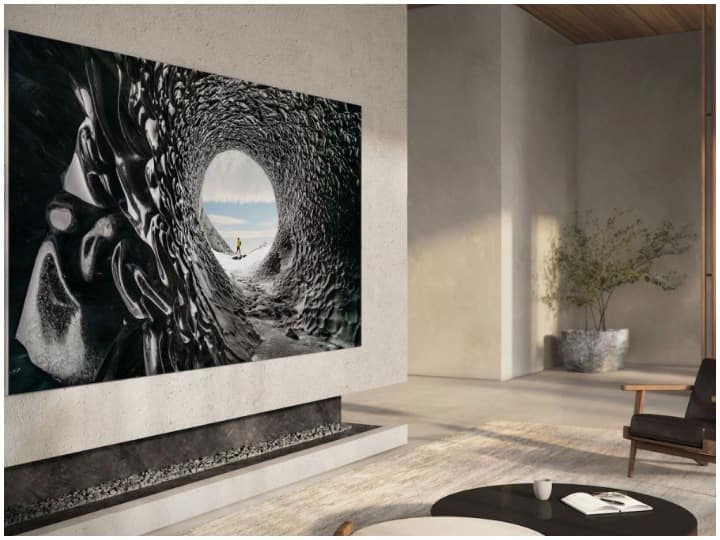 Samsung QD-OLED TV Features: Samsung Electronics has unveiled its Micro LED, Neo QLED and Lifestyle TV series ahead of the Consumer Electronics Show (CES) 2022. With better picture and sound quality than before, more screen size options will be available. The Micro-LED, in 110-inch, 101-inch and 89-inch sizes, delivers best-in-class picture quality for 25 million micrometer sized LEDs that deliver a superior experience of individual light and color. Also an updated interface, the 2022 lineup of Screens brings the vision of 'Screens Everywhere, Screens for All'.
Samsung Neo with QLED, Neo Quantum Processor and Dynamic Sound Experience
Equipped with the Neo Quantum Processor, picture technology and sound, the 2022 Neo QLED will deliver some of the most immersive images and immersive soundscapes ever. In fact, this year's Neo Quantum processor features updated contrast mapping with BLU (Back-Light Unit), thus raising the brightness level from 12 to 14-bit for more control of the light source. This allows the TV to control its light in 16,384 steps, which is four times the previous 4,096 steps.
Also read: Truecaller: How Truecaller tells the name of the caller even before the call comes, know the complete maths
Samsung MICRO LED
Samsung's Micro LED range delivers the best picture quality for 25 million micrometer sized LEDs, producing individualized light and color, thus creating an incredible image through impressive depth, spectacular color and high levels of contrast. Creates an immersive experience. "At CES 2022, Samsung will unveil Micro LEDs in three different sizes – 110-inch, 101-inch and 89-inch," the company said in a statement.
art mode Allows users to convert any room into an art gallery as they can select and display their favorite artwork or digital photography. The 2022 Micro LED comes with two exclusive media pieces from renowned artist and designer Rafik Anadol.
Also read: Safety Tips: SIM will remain in your phone but criminals can empty your bank account, here are the ways to avoid it
Dolby Atmos The 2022 Micro LED range delivers a premier immersive audio experience with top, side and bottom channel speakers for engaging, multi-dimensional sound.
multi view Lets users simultaneously view content from up to four different sources – from any or all four HDMI ports – in 4K resolution up to 120fps.
Also read: 2022 Moon Mission: They are planning to go to the moon this year, know what is India's plan
,