Sports
Titans did not win even in the seventh match, U Mumba made it to the top three with victory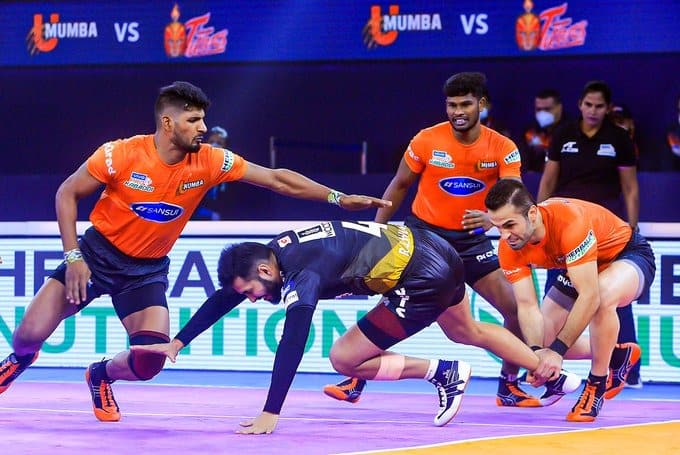 Pro Kabaddi league Season 8, U Mumba vs Telugu Titans, In the 41st match of Pro Kabaddi League season 8 played at Sheraton Grand Whitefield in Bangalore on Saturday, U Mumba defeated Telugu Titans 48-38 in a one-sided match. In the first half of this match, U Mumba made a great start and their defenders did not allow the raiders to run and the raiders allowed the defenders to stay on the mat. In the second half, Telugu Titans came back and got out once but in the first half the team was so behind that it became difficult to equalize. This is the fifth defeat of the season of Telugu Titans and they remain at the last position in the points table. With a resounding win, U Mumba has secured the third position in the points table. Rinku completed the High-5 for U Mumba in this match, while Abhishek Singh completed the third Super 10 of the season. At the same time, Mohammad Chiyah completed High-5 for Telugu.
Mumba dominated from the first half
Fazal Atrachali won the toss and Rajneesh made the first raid of the match for Telugu. Rajneesh opened the account of Telugu by tackling Abhishek Singh. But after this, Fazal Atrachali continued to give raids to Mumba in the defense and Abhishek Singh in the raid and led the team 8-3. Fazal tackled Rakesh Gowda and made Telugu all out and put Mumba ahead 12-5. U Mumba's defense was performing brilliantly in this match and then V Ajith Kumar dismissed two defenders in the same raid to take Mumba ahead 18-7. In the next raid, Ajit Kumar made another successful raid and brought Telugu Titans' second all out in the very first half and the defense sealed it. At the end of the first half, U Mumba was ahead 28-13.
Sultan Fazal did not give any chance to Telugu
Even at the beginning of the second half, it was a difficult task for Telugu to stop U Mumba. U Mumba's team was playing so well together that all their players had scored points. Rinku tackled the raiders of Titans and bowled out Telugu for the third time in this match and put Mumba ahead 37-20. Rinku completed his High-5 by tackling Surender Singh. Became the first player to do high-5 this season from Mumbai. In the last 10 minutes, the Telugu defense tried to make a comeback but it was not easy to cross Mumba's lead. In the last raid, Telugu Titans took a point but they could not even reduce the end of the defeat to 7 or less and U Mumba won the match 48-38. This is Mumba's fourth consecutive win in Pro Kabaddi history against Telugu.
Pro kabaddi league: In the history of Pro Kabaddi League, this team has the record for the biggest win, Bulls made an unwanted record
When it comes to 'DO OR DIE' raids, this team creates panic on the mat, has done over 500 successful DO OR DIE raids in 130 matches
,