Sports
Telugu Titans didn't let Pawan's wind blow, tie with Bulls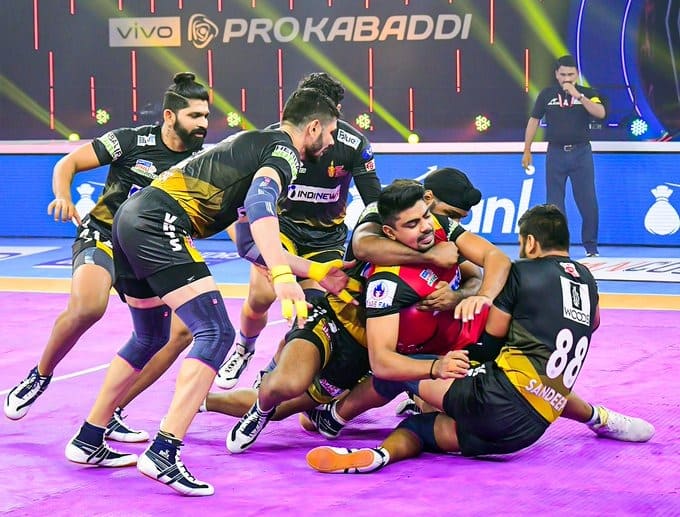 Pro Kabaddi league Season 8, Telugu Titans vs Bengaluru bulls: The 26th match of Pro Kabaddi League Season 8 played at Sheraton Grand Whitefield on Saturday was tied 34-34 between Telugu Titans and Bengaluru Bulls. Today's second match ended in a tie. Earlier, the match played between UP Yoddha and U Mumba also ended in a tie. Neither Pawan Sehrawat nor Telugu captain Rohit Kumar walked in this match. Ankit Beniwal completed the first Super 10 raid of his career, while Chandran Ranjit scored 9 raid points for the Bulls. Less than a minute was left and Telugu victory was being considered but Pawan Sehrawat made a tackle and tied the match. With this tie, Bulls have moved up to the second position with 18 points. At the same time, Titans is in 10th place with 8 points. This was the fourth match of Telugu and even after this match, they will have to wait for their first win.
Titans succeeded in stopping the wind
Telugu Titans won the toss and invited Bengaluru Bulls to raid first. Pawan Sehrawat was tackled by Sandeep Kandola in the first raid and calmed the storm before it came. Telugu Titans, playing without Siddharth Desai, performed brilliantly in defense and led the team 6-5 for the first 10 minutes. Titans had not given a single point to Pawan yet. Rakesh Gowda took two points and again took the team ahead by 3 points. Pawan Sehrawat got the first point in the match after 11 minutes. Bulls made Ankit Beniwal (Super Tackle) to level the score. Chandran Ranjeet of Bangalore Bulls was the only raider in this match to easily get raid points against Telugu, taking 4 out of 8 points to take the team 11-10 ahead. Bulls were 14-12 ahead at the end of the first half.
Telugu Defense Stopped Bulls Raider
In the second half, Telugu Titans tried to reduce the lead of the Bulls by taking the first point. After this, the Telugu defense made Bangalore Bulls all-out by tackling Pawan Sehrawat. After this, Pawan returned to the mat and as soon as he came, Surender Singh along with captain Rohit Kumar got two points and brought the score even. Ankit Beniwal completed the first Super-10 raid of his career by doing a brilliant raid. When the last 5 minutes of play were left in the match, then Titans defender Adarsh ​​T super raid gave the team a two-point lead. After this Saurabh Nandal made a super tackle, all out Telugu and again put the Bulls forward. After this both the teams were tied but Telugu took a one point lead by making another excellent tackle. In the last raid, Pawan Sehrawat saved the match by tackling Ray Raider and the match ended in a tie.
Pro Kabaddi League 2021-22: Ran for 10 hours continuously for selection in Indian team, made Patna the champion as soon as Pro Kabaddi landed on the mat, now this team is responsible
Pro Kabaddi league 2021-22: In the year 2021, these players rocked the mat of Kabaddi, the biggest win of the year, the most super raids and the most unsuccessful super tackles
,