Sports
Haryana Steelers beat Gujarat to register their second win, HS Rakesh completes Super 10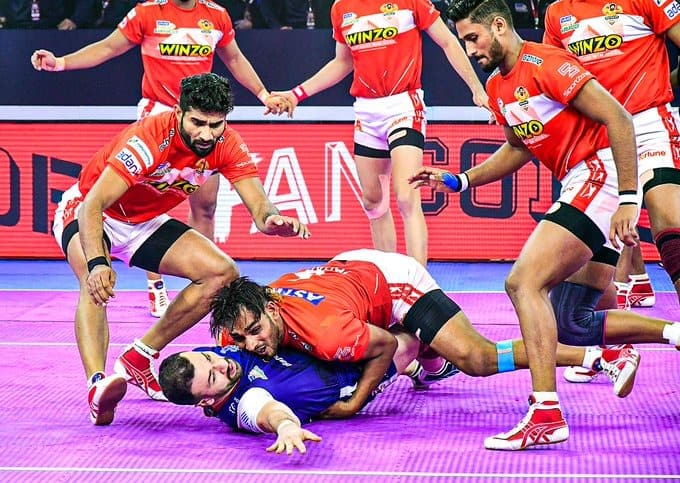 Pro Kabaddi League 2021-22, Gujarat Giants vs Haryana Steelers: Haryana Steelers defeated Gujarat Giants 38-36 in the 28th match of the Pro Kabaddi League played at the Sheraton Grand Whitefield in Bengaluru on Sunday. The match saw a lot of ups and downs, with Steelers leading by 12 points in the first half, after which Gujarat made a great comeback and took a 3 point lead against Steelers. Steelers again did wonders in the last moments and won the match. This is Haryana Steelers' third consecutive win against Gujarat Giants in Pro Kabaddi League.
Haryana started with a bang
Gujarat Giants won the toss and asked Haryana Steelers to raid first. Rohit Gullia came first to raid but could not open the Steelers account. Rakesh Narwal got the first raid point of the match and gave Gujarat a point. Since then, the defenders of Haryana Steelers have done what is expected of them. After all outing Gujarat, the team first took the lead, after that Vikas Khandola's successive raid points doubled the team's lead. On the other hand, Jaideep and Surender Nada were continuously increasing the score of the Steelers by tackling the raiders of Gujarat. Shortly before the end of the first half, the Steelers once again all-outed Gujarat Giants and took a 22-10 lead after 20 minutes of play.
Giants make a great comeback
Gujarat started the second half by scoring points. After half time, Gujarat scored 4 points in a row but Steelers did not get a single point. Steelers' defenders gave Haryana two points by making a super tackle. After this, Ravinder Pahal took Gujarat to a score of 15 with a brilliant tackle from Meetu Mahender. In the eighth minute, Ravinder Pahal made another fine tackle to all-out Haryana Steelers. Rakesh HS made a splash in the second half and completed his Super 10 first and then reduced the Steelers' lead by taking 6 points in 6 consecutive raids. In the second half, neither the Steelers raiders were able to take points nor were the defenders able to tackle.
One mistake snatched the match from Giants
There were four minutes left in the match and Gujarat came back to take the lead in the match for the first time by giving Haryana an all out for the second time in the second half. While Ravinder Pahal was doing great in defence, Rakesh HS was doing amazing in Raid. In the second half, Haryana could take only 9 points, while Gujarat Giants, on the other hand, took 24 points to take the lead in the match. After this, Meetu brought Haryana on par by doing a super raid and completed her Super 10 raid. In the last minute again Gujarat made the same mistakes which are being seen continuously for the last few matches and in this match Haryana beat Gujarat 38-36. This is Haryana Steelers' third consecutive win against Gujarat Giants in Pro Kabaddi League.
Not only this, one becomes a showman: Rahul Chaudhary, the 'Red Machine' of Pro Kabaddi League, has made many records, but this thing makes him different
When it comes to 'DO OR DIE' raids, this team creates panic on the mat, has done over 500 successful DO OR DIE raids in 130 matches
,