Sports
Despite beating Bengaluru, Puneri Paltan finished 10th at Pointe, Bulls at number two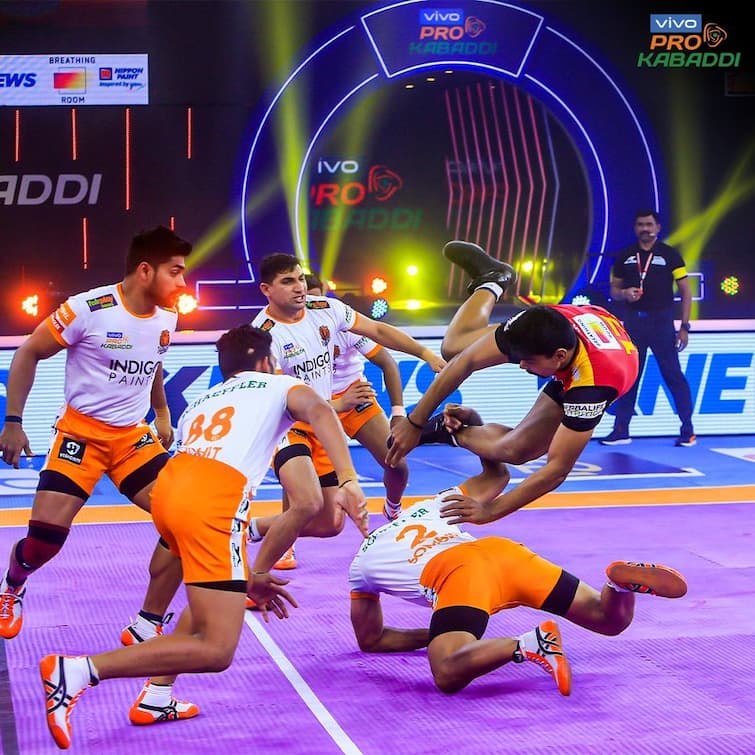 Pro Kabaddi league Season 8, Bengaluru Bulls vs Puneri Paltan: Bengaluru Bulls defeated Puneri Paltan 37-35 in the 70th match of Pro Kabaddi League season 8 played at Sheraton Grand Whitefield in Bangalore on Saturday. Despite this victory, Puneri Paltan is at 10th place in the points table, while Bulls remains in second place even after losing the match. In this match, Pawan Sehrawat completed Super 10, while Mohit completed his Super 10 in raid with three excellent tackle points and wrote the fifth victory in the name of Paltan. In this match, Sombir completed his high-5, while Saurabh Nandal and Aman got 3-3 tackle points from Bengaluru Bulls.
Mohit Goyat equalized Paltan
Bengaluru Bulls won the toss and Aslam Inamdar from Puneri Paltan opened the account of the platoon with a bonus, Pawan Sehrawat opened the account of the Bulls by dismissing Aslam. After this the game progressed and the defense of the platoon got Pawan out twice but was unable to stop the bonus of the Bulls. Mohit Goyat gave the lead to Paltan by dismissing Saurabh Nandal and Aman in the same raid. Tackled by Pawan, Puneri took a 13-10 lead by allouting the Bulls. After this the Bulls took the lead with 4 consecutive points. But Mohit again took two points in the same raid to take a 16-15 lead. In the first half, Mohit Goyat had scored 8 points, while Pawan had 6 successful raids. Sombir and Sanket Sawant got two tackle points each from Paltan.
Paltan's defense turned the match
Paltan further strengthened their lead by dismissing Pawan in the first raid of the second half. After this Mohit Goyat again did a two-point raid. Tackling Deepak, Paltan took Bullis all out for the second time and took a 22-18 lead. In the 25th minute of the match, Nitin Tomar made the first raid and got two points. Mohit Goyat tackled Pawan and put the team ahead 25-18. The last 10 minutes of play were left and the platoon was ahead 29-23. Bulls raiders continued to lash out in front of the platoon's defense, the team had so far secured 12 tackle points. Last 2 minutes of play was left and Pawan Sehrawat was out of the mat. In the last minute, the Bulls made a comeback in the match with three consecutive points. Pawan completed his 10th Super 10 of this season by doing a successful raid. Pawan made a mistake in the defense and Paltan took a 36-34 lead. Mohit completed his Super 10 by taking a touch point in the last raid, giving victory to Puneri Paltan.
Pro Kabaddi League: These are the five defenders who completed the most high-5 in Pro Kabaddi season 8, Manjit Chillar out of top-5
Pro Kabaddi: These are the five players who hit the most Super 10s in Pro Kabaddi season 8, Pardeep Narwal out of top-5
,