Sports
Dabang Delhi was also invincible against Thalaivas, Naveen Kumar scored 15 points in the tie match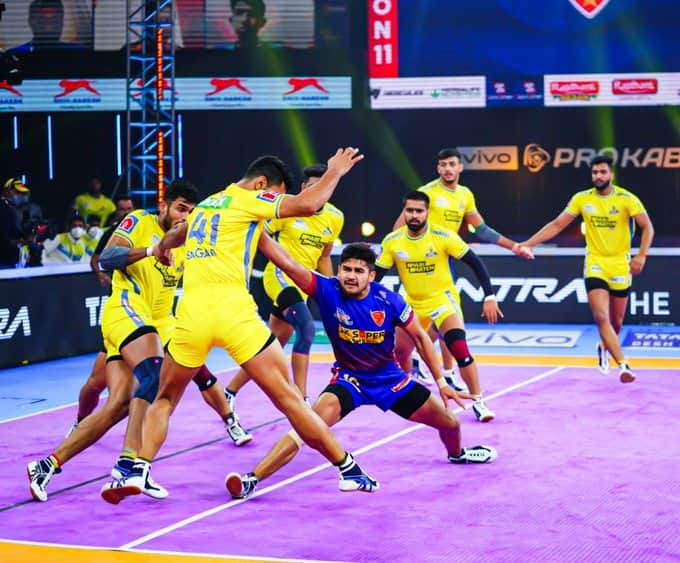 Pro Kabaddi league Season 8, Dabang Delhi KC vs Tamil Thalaivas: The 27th match of the Pro Kabaddi League season 8 played at the Sheraton Grand Whitefield on Saturday also ended in a tie. Dabang Delhi KC and Tamil Thalaivas scored 30-30. With this tie, while Delhi's team remains in the first place, Tamil Thalaivas has reached the fifth place with 14 points. This is the first time since Season 5 that all three matches of the day have ended in a tie. Although Naveen Kumar was successful in completing his Super 10 in this match as well and 15 out of 16 raid points of Delhi were in the name of Naveen Kumar. On the other hand Manjeet completed his Super 10, while Sagar completed his first High-5.
Naveen Express also ran against Thalaivas
Tamil Thalaivas won the toss and Naveen Kumar opened Dabang Delhi's account by taking bonus points. Manjeet opened the account for Thalaivas by doing a successful raid but tried to avoid the biggest threat by tackling Naveen in the very next raid. The team started lagging as soon as Naveen went out and on the other hand Tamila Thalaivas was scoring points continuously. For Dabang Delhi trailing 14-9, Joginder Narwal reduced Tamil's lead by making a super tackle, after which Naveen came on the mat and this time it was difficult for the Thalaivas to get him out. He completed the Super 10 and gave the team a 15-14 lead. In this match, Naveen completed the fifth of the season and the 26th Super 10 of his career. After the first half, Delhi was ahead 16-14 due to Naveen's blazing raid.
Thalaivas's defenders made the team return
Tamil got the first point in the first raid of the second half, but Naveen raided and put the team ahead by two points. Joginder Narwal tackled Manjeet and dismissed Thalaivas. After this Tamil Thalaivas scored 3 consecutive super tackles to get 6 points and reduced Delhi's lead. Sagar completed his high-5 and Mohit-Surjeet Singh were continuously supporting him. The last five minutes of play were left and the team of Dabang Delhi was ahead 29-17. Naveen Kumar was off the mat and Manjeet dismissed Joginder Narwal. After this, Thalaivas got the equalization in the match by tackling Ashu Malik. A wrong tackle from Neeraj from Dabang Delhi put Thalaivas ahead again. With one minute left to play, Dabang Delhi was trailing by one point. Sandeep Narwal got the brilliant raid point and brought the team on par. After this no one got any points and today's third match also ended in a tie.
Pro Kabaddi League 2021-22: Ran for 10 hours continuously for selection in Indian team, made Patna the champion as soon as Pro Kabaddi landed on the mat, now this team is responsible
Pro Kabaddi league 2021-22: In the year 2021, these players rocked the mat of Kabaddi, the biggest win of the year, the most super raids and the most unsuccessful super tackles
,