Sports
After two years, the Pro Kabaddi League started in the best way, Pawan got out seven times in the match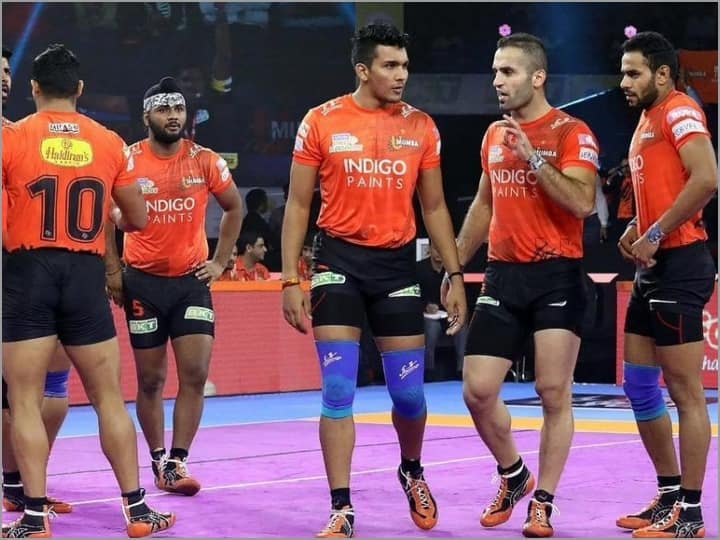 Pro Kabaddi League Season 8: U Mumba defeated Bengaluru Bulls 46-30 in the first match of the Pro Kabaddi League played at the Sheraton Grand in Bengaluru on Wednesday. In this match, Abhishek Singh scored 19 raid points for U Mumba, while captain Pawan Sehrawat scored 12 and Chandran Ranjit Singh scored 13 points for Bengaluru Bulls. In this match, the weaker the defense of the Bulls looked, the stronger the defense of U Mumba looked and this is the reason why they were able to all out the Bulls thrice.
Bengaluru Bulls captain Pawan Sehrawat won the first toss of season 8 and chose the court. U Mumba's Chandran Ranjit Singh raided first and successfully scored. Abhishek Singh's first raid was empty of U Mumba. After that Abhishek Singh dominated the entire half and kept U Mumba continuously ahead. Chandran Ranjit continued to mess with Bangalore Bulls but U Mumba was ahead 12-9 by 10 minutes of the first half due to lack of support from any other player. U Mumba's excellent game continued in the next 10 minutes as well and they continued to maintain their lead. U Mumba was ahead 24-17 after the first half.
From the beginning of the second half, Bengaluru Bulls improved their raid and tried to curtail U Mumba's lead. Bulls captain Sehrawat caught his momentum and got many excellent raid points. On the other hand, Ranjit's excellent form continued but the defense of the Bulls was struggling continuously. When only 10 minutes were left in the match, U Mumba was ahead 32-24. After the strategic time out, there was a fierce competition between the two teams. Bangalore Bulls, who have been all out twice so far, made a superb super tackle and took the team to 26 points. However, Pawan Sehrawat had no answer in front of U Mumba's defense and he got tackled 7 times. Gradually, Mumba's lead increased to 16 points. In the last raid, Chandran Ranjit scored a point for the team to take Bengaluru Bulls to 30 points but could not avoid defeat. When the time ran out, U Mumba had 46 points on the scoreboard, while the Bulls had 30 points.
In this way, defeating Bengaluru Bulls by 16 points, U Mumba won the first match of VIVO Pro Kabaddi Season 8. In this match, Abhishek Singh scored 19 points for Mumba, while Chandran Ranjit scored 13 points for Bulls.
,