Sports
You Can't Stop Laughing At What His Umbrella Did To Michael Vaughn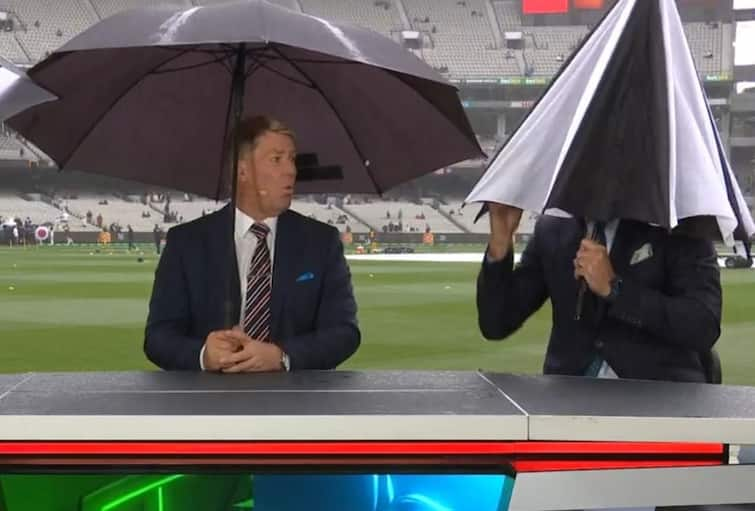 Australia vs England Michael Vaughan Umbrella Viral Video: An interesting sight was seen during the third test match of the Ashes series 2021-22. Former veteran cricketers Adam Gilchrist, Shane Warne and Michael Vaughan were live in a TV show. During this, Vaughan's umbrella failed and fell on his face. This completely covered Vaughan's face. Seeing this sight, Shane Warne and Gilchrist could not stop laughing and then all three started laughing. The video of this incident is becoming very viral on social media.
Former England cricket legend Michael Vaughan has shared a video on his Instagram account. In this, he is seen interacting with Adam Gilchrist and Shane Warne in a TV show. All three have umbrellas in their hands, when suddenly Vaughn's umbrella closes and his mouth is covered in it. Seeing this, both the companions could not stop laughing and started laughing loudly. When Vaughn opens the umbrella, it turns upside down. All three can't stop laughing at this. Its video is being well-liked on social media. Vaughan tweeted this video and wrote, I knew England would have a bad day after this start.
I knew it was going to be a bad day for England after this start !!! @FoxCricket #Ashes pic.twitter.com/y9AqCffTmQ

— Michael Vaughan (@MichaelVaughan) December 26, 2021
Let us inform that in the first innings of the third Test match of the Ashes series, England scored 185 runs till all out. In response, Australia scored 267 runs in the first innings till all out. Now England is playing the second innings. He has had a bad start in this. The team has lost 4 wickets on the score of just 31 runs. Currently, captain Joe Root is playing unbeaten on 12 runs and Ben Stokes is unbeaten on 2 runs.
,