Sports
When Sachin Tendulkar came out to play his last test match, he told this big thing to Cheteshwar Pujara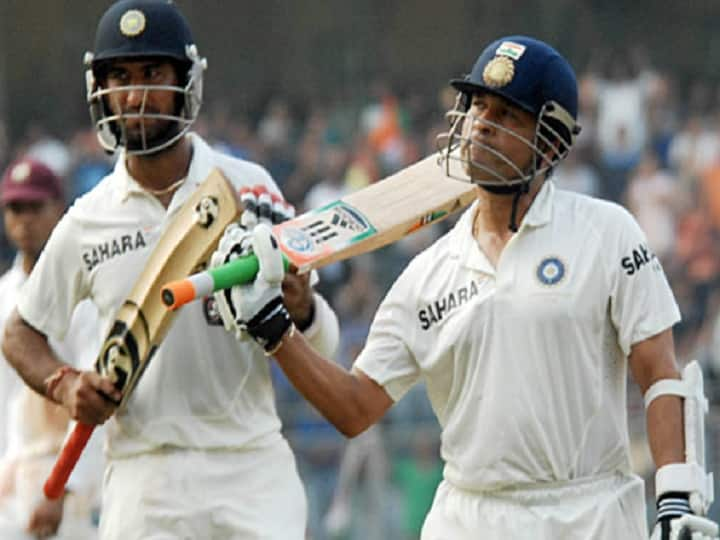 Cheteshwar Pujara: Former Indian opener Sachin Tendulkar made many big records during his long international cricketer career. When he was at the crease, his batting was worth watching. Seeing him, many youngsters learned to play cricket. Today we are going to tell you something about which very few people know.
Actually, some time ago, Cheteshwar Pujara had told during an interview that what was the atmosphere on the field during the farewell test of the great Indian batsman and what advice did he give to him after landing on the field. Sachin Tendulkar played his last Test match in November 2013 at the Wankhede Stadium. The Wankhede Stadium was completely full, everyone had come to see Sachin Tendulkar batting for the last time in a Test. When 'Little Master' came to bat for the last time, the noise had reached its peak.
Cheteshwar Pujara had told, "I was standing with the West Indies team. When Sachin came to bat. The kind of noise the spectators were making on the ground was very loud. I have been a part of IPL and ODI teams, but it was the loudest sound on the cricket field. When he came in, he told me something and I couldn't hear what he said. So, I had to ask him again."
Pujara said in the second season of the show 'What the Duck', "He told me 'Whatever is happening, we don't need to focus on that. We just have to be in our zone. We focus on those things.' We will focus on what we have to focus on." He further added, "It meant a lot, because I didn't know what to do at that time. After what he told me, I started concentrating on what I had to do. I scored a century in that match.
Although the Test will be remembered for Tendulkar's 118-ball 74, Pujara (113) and Rohit Sharma (111 not out) scored important centuries. India scored 495 runs in the first innings in reply to West Indies' 182. India registered a resounding victory in this match. Pujara said, "When I used to hit a boundary, no one used to clap. And when I took a single, the audience clapped loudly. I didn't know whether to hit a boundary or take a single.
read this also:
IND vs ENG: Know how the result of the series will come out after the cancellation of Manchester Test?
T20 World Cup: Sri Lanka announced the 15-member team, these players got a place
.