Sports
Virat made special preparations in the dressing room to welcome Bumrah and Shami, the heroes of Lord's Test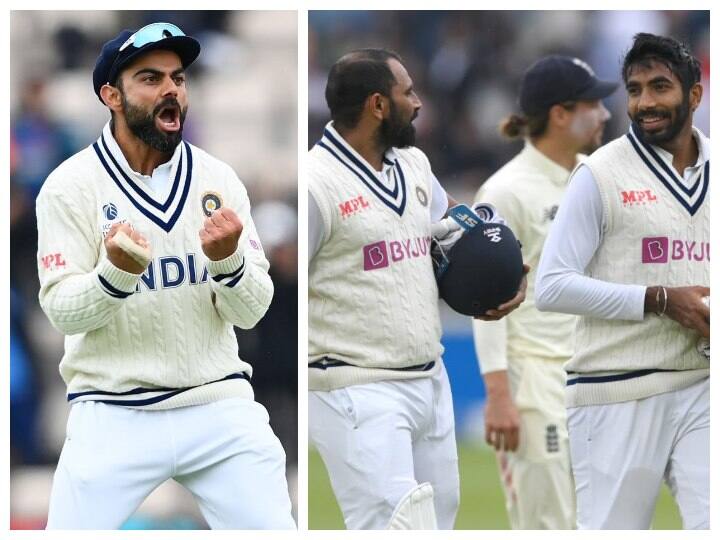 IND vs ENG: India created history by defeating England in Lord's Test. On the fifth day of the Test match, the situation of Team India was very bad at one time, in such a situation, Jasprit Bumrah and Mohammed Shami played the role of troubleshooters for the team.. With the help of the great partnership between the two, not only did India make a comeback in this match but also won.. Team India's fielding coach R Sridhar has shared information about the dressing room environment during lunch time on the fifth day of the Test match..
Sridhar said that, During the lunch time, captain Virat Kohli had asked for a warm welcome to Bumrah and Shami.. Sridhar said this on the YouTube channel of legendary off-spinner R Ashwin, who is included in Team India.. BCCI also shared its video.

Sridhar said that, "At lunch time when Bumrah and Shami were returning back to the dressing room, Then Captain Virat told all the players that we have to welcome both of them by shouting loudly.. Our voice must be so loud that it can be heard reverberating in the Lord's field for years"
RCB posted on Instagram
Kohli's team RCB in IPL has also posted Sridhar's statement on his Instagram..
In this post, RCB wrote praising Kohli, "A good leader and team player"
bumrah And Shami has Of Was 89 runs Of Partnerships
India had lost the wickets of Rishabh Pant and Ishant Sharma early in the final day of the second Test.. The team was in danger of losing the match.. In such a situation, Bumrah and Shami present at the crease took the ninth wicket. 89 Got the team out of this crisis by making a great partnership of runs. After that Bumrah, Shami, Ishant and Siraj's quartet bowled brilliantly to England 120 Bound your team on runs 151 Had a brilliant win by runs.
read also
Hardik Pandya Watch: Hardik Pandya came out on the streets of Abu Dhabi wearing such an expensive watch, the fans were also surprised to know the price
Virat Kohli Instagram: Before the third match against England, Virat Kohli sweats heavily in the gym, shared the video
.