Sports
U Mumba vs Tamil Thalaivas tied 30-30 in Pro Kabaddi League Season 8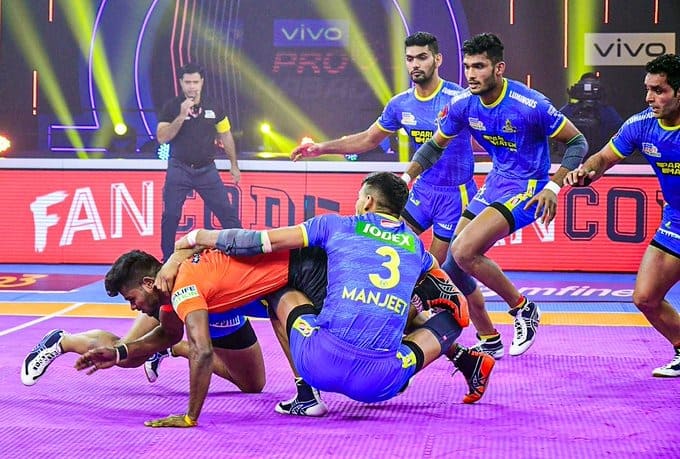 Pro Kabaddi League 2021-22, Tamil Thalaivas vs U Mumba: The 15th match of the Pro Kabaddi League played at the Sheraton Grant Whitefield in Bengaluru on Monday ended in a draw of 30-30 after 40 minutes of play. Manjeet made 8 raids and Atul (Athul) for Tamil Thalaivas, while Ajit (V Ajith) got 15 raid points alone for Mumba. With this tie, U Mumba has moved to the fourth position in the points table, while Tamil Thalaivas are at the 9th position.
Tamil Thalaivas won the toss and invited U Mumba to raid first. Abhishek Singh, who is in excellent form, has already opened the team's account by taking points in the raid. But in his second raid, Surjeet Narwal tackled him and showed him the way out. On the other hand, Manjeet made two consecutive successful raids to lead the team 3-1. Tamil Thalaivas continued their stellar performance, giving U Mumba an all out in the 7th minute to give the team a 10-2 lead. After 10 minutes of play, U Mumba had only 2 points in its account and Tamil Thalaivas had taken 13 points. In the last minute of the first half, Ajit Kumar tried to get the team back by doing Super Raid. After this raid, Tamil Thalaivas were all out, due to which U Mumba got 6 points and the score became 14-17. With this the half-time game ended.
From the beginning of the second half, Tamil Thalaivas tried to keep the raiders of U Mumba calm and allowed only 4 points for 10 minutes. U Mumba was trailing 20-23 till the tight out. So far in this match, Mumba's captain Fazal Atrachali had not run at all and could not take a single point, although U Mumba was constantly giving competition with the help of raids of Ajit Kumar and Abhishek Singh. After completing his Super 10 raid, Ajit Kumar took the responsibility of taking Mumba's score alone and brought the team closer to the level with three successive raids. After this, Rinku gave a brilliant tackle to the Tamil Thalaivas all out and gave the team the lead in this match for the first time. The last five minutes of play were left and U Mumba was ahead 28-26.
In the last minute, Tamil Thalaivas's defense showed a great game and tied the match by making a fine tackle for the team which was trailing by one point. Thus a thrilling match ended in a draw in the end.
,