Sports
U Mumba defeated Telugu Titans to make it to the top 6, Fazal Atrachali completed the first high-5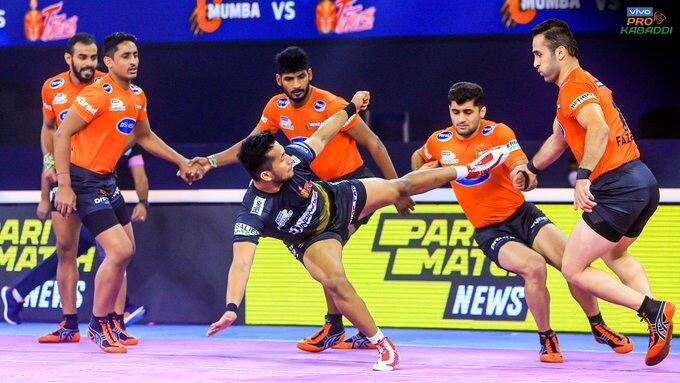 Pro Kabaddi league Season 8, U Mumba vs Telugu Titans, U Mumba defeated Telugu Titans 42-35 in the 71st match of Pro Kabaddi League season 8 to be played at Sheraton Grand Whitefield in Bangalore on Saturday. In this match, U Mumba kept the Telugu raiders in check from the beginning and Abhishek and Ajit Kumar kept scoring points in the raid. With this win, U Mumba has moved to fifth place in the points table. In this match, Abhishek Singh was the player to get the highest 15 raid points, Fazal Atrachali completed the first high-5 of the season and Rahul Sethpal got 4 tackle points. Adarsh ​​T completed his Super 10 raid for Telugu Titans while Sandeep Kandola and Surender Singh took 4 tackle points each.
Mumba's defense stopped the raiders of Titans
Telugu Titans won the toss and invited U Mumba to raid first, Abhishek Singh (Abhishek Singh) opened the team's account by getting the right corner in the very first raid. Rahul Sethpal tackled Ankit Beniwal and gave Mumba the first point in the defence. U Mumba took a 6-1 lead by scoring consecutive points in the raid with the defense. Abhishek Singh took the Titans close to all out with 4 consecutive points. Fazal made the Titans all out with a tackle and took a 10-2 lead. For the first time in the 12th minute of the match, U Mumba's defense made a mistake and in the next raid, Abhishek was tackled by Surender Singh and signaled the return of Titans. Adarsh ​​T made a brilliant raid and all out Mumba and made the score 15-20. In the last minute, Telugu showed a great game and reduced the lead of Mumba to 23-17 till the first half.
Atrachali completes first high-5
At the beginning of the second half, there was a fierce competition between the two teams. Mumba was playing with a lead of six consecutive points. Fazal completed the first high-5 of the season with two consecutive tackles and took U Mumba 28-19 ahead. Abhishek Singh completed the 5th Super 10 of this season with two points in a Do or Die raid, while Fazal Atrachali tackled Rajneesh to put U Mumba ahead 35-25. Both the teams took an aggressive approach in the last minute. With two minutes left to play, Telugu Titans were still behind by 6 points. Telugu made mistakes in the defense while trying to make a comeback and Abhishek Singh's Super Raid put Mumba ahead by 10 points. Adarsh ​​T completed his Super 10 by doing super raid. Adarsh ​​did not allow the margin of defeat to increase more than 7 by taking one point in the last raid and Mumba won the match 42-35.
Pro Kabaddi League: These are the five defenders who completed the most high-5 in Pro Kabaddi season 8, Manjit Chillar out of top-5
Pro Kabaddi: These are the five players who hit the most Super 10s in Pro Kabaddi season 8, Pardeep Narwal out of top-5
,