Sports
Today's second match will be between Bangalore and Mumbai, both teams would like to avoid hat-trick of defeat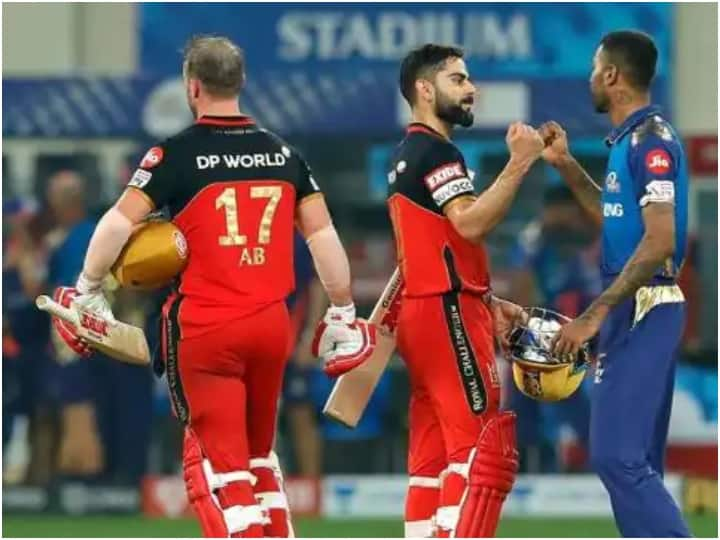 Royal Challengers Bangalore vs Mumbai Indians: Today's second match will be played between Virat Kohli-led Royal Challengers Bangalore and Rohit Sharma-led Mumbai Indians. This match will be played in Dubai from 7.30 pm onwards. In the second half of IPL 2021, the winning account of these two teams has not yet opened. Both the teams have played two matches each, in which they have to face defeat. In such a situation, both the teams will try their best to avoid a hat-trick of defeat on Sunday.
RCB are still in the top four with 10 points from 9 matches, while Mumbai have slipped to the sixth position with eight points from nine matches after two consecutive defeats. Kohli, Rohit, Suryakumar Yadav and Ishan Kishan will form the mainstays of the Indian batting in the T20 World Cup, but all have been underperforming in the second leg of the league, barring an innings by Kohli against Chennai Super Kings in the last match.
Apart from this, Hardik Pandya is not being picked in the playing XI of Mumbai as he is probably not 100 percent fit to fulfill his all-rounder's responsibility. If Hardik is also fit to bat, then he can get a chance in place of Saurabh Tiwary in the team. This player from Baroda is considered better in this format than left-handed batsman Tiwary of Jharkhand.
Kohli showed signs of getting into the rhythm as he completed his half-century against Chennai in Sharjah. However, Rohit has not been able to perform according to his talent in the second half. Also, Suryakumar Yadav and Ishaan not being in the rhythm for Mumbai is a matter of more concern.
The special thing is that after the start of the second half of the league, both the teams have to face defeat from Chennai and Kolkata. Talking about the bowling, Jasprit Bumrah for Mumbai and Yuzvendra Chahal for Bangalore have bowled brilliantly, but both have not got better support from other bowlers in their teams.
Harshal Patel has taken the most wickets so far in the current season, but the RCB bowler lacks consistency in his performance. Navdeep Saini has also struggled to take wickets. He has taken only 17 wickets in 30 IPL matches. Sri Lankan spinner Wanindu Hasaranga has also failed to impress so far.
Kohli would also like to break the team's seven-match losing streak in the UAE with this match. In this, the team had got five defeats in the last season. In the team's batting, Kohli and Devdutt Padikkal shared a 111-run partnership for the first wicket against Chennai. But the rest of the batsmen failed to add even 50 runs in that match.
.