Sports
These five veteran defenders including Jiva Kumar have been ineffective this season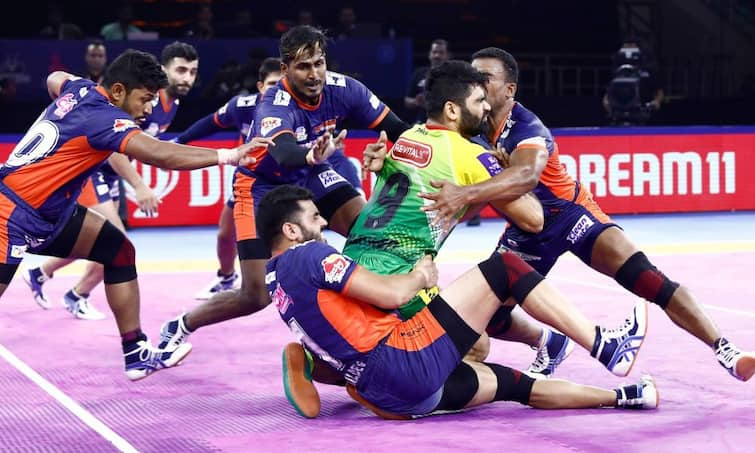 Pro Kabaddi League 2021-22, Legend defenders are out of form: In Pro Kabaddi League Season 8 so far, only two teams have been able to touch the 50-point mark only twice in the match. First Dabang Delhi Kc scored 52 points against Bengal Warriors. After this, Bengaluru Bulls scored the biggest score of this season against Dabang Delhi and won 61-22. Apart from this, there has not been any such match in which any team has crossed the 50 mark. Despite this, so far this season, only Surjeet Singh is the only player who has been able to get 30 tackle points. But there are some legendary defenders who have not been able to impress this season.
Jeeva Kumar
Even though Dabang Delhi has performed brilliantly in this scene, but the biggest star of their defense Jeeva Kumar has not yet returned to their colors. Jeeva has come on the mat in all 9 matches for Delhi this season but has managed to score only 9 points. In the history of Pro Kabaddi, Jeeva Kumar, who has scored more than 100 hunts, has been a complete failure this season.
Ravinder Pahal
The form of Ravinder Pahal, the biggest star of Gujarat Giants, is also not supporting this season. Ravinder, who has beaten the biggest raiders in the history of Pro Kabaddi, has been able to get only 10 tackle points in 6 matches this season. Ravinder Pahal is the second greatest defender in history and has scored more than 300 tackle points.
Parvesh Bhainswal
Parvesh Bhainswal, who started his Pro Kabaddi career with Jaipur Pink Panthers in the year 2016, started becoming one of the biggest defenders of Pro Kabaddi as soon as he came. Known for his excellent defensive skills, Parvesh's form has also stayed away from him this season. Bhainswal, who has scored more than 190 tackle points in just 4 seasons, has been able to get only 13 tackle points this season.
Joginder Narwal
Joginder, who has scored more than 170 tackle points in the history of Pro Kabaddi, has remained silent this season. Joginder Narwal, who is leading Dabang Delhi, has got only 12 tackle points in 9 matches. The biggest score of this season has been made against Dabang Delhi, when Bengaluru Bulls won by a margin of 61-22.
Dharmaraj Cheralathan
This 46-year-old player used to be a different challenge for the raiders in the last few seasons but this season Dharmaraj Cheranathan has not been able to run. The Indian Kabaddi player who has scored more than 230 tackle points in history is representing Jaipur Pink Panthers in the Pro Kabaddi League and has managed to score just 2 points in three matches so far.
Pro Kabaddi League 2021-22: On the lines of IPL, best raider and best defender will be recognized in Pro Kabaddi league, players will wear sleeves of this color on the mat
Pro Kabaddi League: Naveen Kumar, who made many new records this season, also left Pardeep Narwal and Maninder Singh behind
,