Sports
The 'Badshah' of cricket seems helpless in front of Anderson, has the captaincy pressure increased on Virat?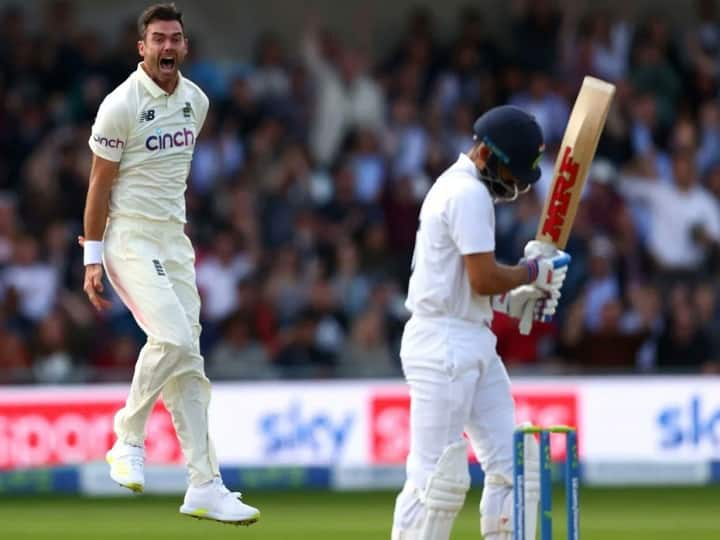 IND Vs ENG: India is leading 1-0 in the five-Test series being played against England. Wednesday was the first day of the third Test. Everyone would like to forget the performance of the Indian batsmen. The entire team India was all out for 78 runs. England has scored 120 runs without losing a wicket. In this match, everyone's eyes were on Virat Kohli. Virat disappointed once again. The question is what happened to Virat's bat? When will the drought of Virat's runs end? Along with this, questions like feeling the pressure of captaincy about Virat Kohli are also being raised.
Virat Kohli, who has the title of number one in the world. The fear of whose name makes the bowlers all over the world sleepy. But Virat's bat is not supporting him. The conditions were difficult at the Headingley ground in Leeds, first the inform Rahul and then Pujara had returned to the pavilion after getting out.
Team India's batsmen were failing badly in front of the 39-year-old Anderson's bowling. Virat landed on the crease, Anderson was standing in front of Virat with the ball. This is the battle, which is the first choice of every person watching cricket.
Virat Kohli could not stand in front of Anderson even before
Virat's fans hoped that the captain would get the team out of these difficult situations and together with Rohit would carry forward the innings. Virat started facing Anderson but before the trust turned into confidence, what he feared happened. Anderson got Virat out, more pain than getting out was on the way out, which is Virat's biggest problem on English pitches.
Virat Kohli could play only 17 balls in which he scored 7 runs. It is not that Virat has become a victim of Anderson for the first time in this series. The same thing happened in the first innings of the first Test as well. Virat was dismissed like this even then and this time also nothing changed.
By the way, if you see Virat's record against James Anderson, you will be surprised. Anderson has dismissed Virat 10 times in international cricket, Virat is not seen in color since the beginning of this series. This is happening similar to what happened in the year 2014. Even at that time questions were being raised on Virat's technique and this time also his action replay is happening.
Virat has scored only 69 runs in 4 innings played in this series at a very poor average of 17.25. It is also not that Virat's bat is angry only after going to England. Runs are not being made with Virat's bat for a long time.
In the last 10 Test innings, Virat has an average of 24.56, while the overall average is beyond 51. This big star of international cricket has not scored any century from 50 innings. You will be surprised to know that Virat scored the last Test century in 2019.
Is captaincy pressure increasing on Virat?
Is the captaincy of all three formats affecting Virat's batting for a long time. We asked this question from Cricket Expert and former fast bowler Atul Wassan of ABP News. Should think about.
Well, it is not that Virat alone is responsible for what happened in Leeds. The entire team is at fault, in the first innings, Team India was all out for only 78 runs. Except Rohit and Rahane, none of the batsmen touched the double figure. did not reach. This is only the second time under Virat's Test captaincy, when the entire team was all out for less than 100 runs.
Sunil Gavaskar came forward to help Virat Kohli, know why he advised to talk to Sachin Tendulkar
.