Sports
Show a great performance of excellent defense in Pro Kabaddi, Thalaivas and Panthers tie the match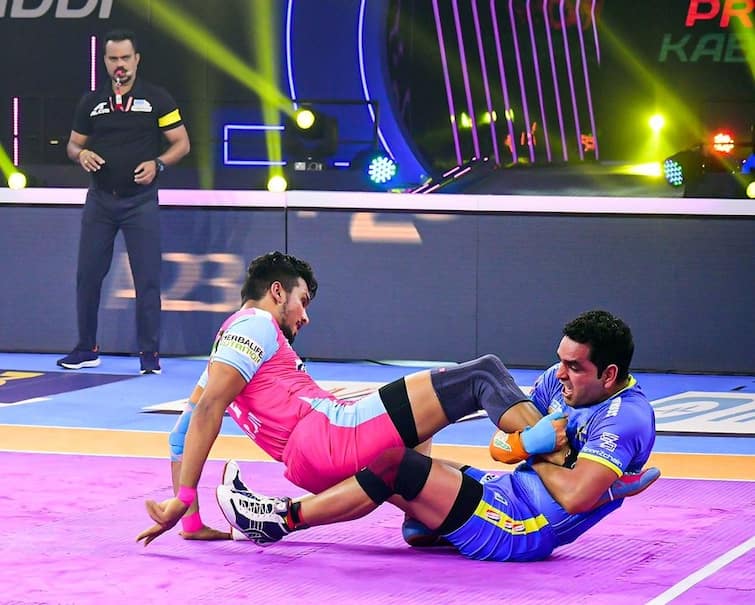 Pro Kabaddi league Season 8, Tamil Thalaivas vs Jaipur Pink Panthers, The 58th match of Pro Kabaddi League season 8 played at Sheraton Grand Whitefield in Bengaluru on Sunday was tied 31-31 between Tamil Thalaivas and Jaipur Pink Panthers. This was the 12th tie match of this season. After this tie, both the teams got 3-3 points, due to which Jaipur remains in fourth place and Thalaivas is also in fifth place. In this match, the defense of both the teams performed brilliantly and did not give points easily to each other's raiders. Sandeep Dhul completed his high-5 for Jaipur Pink Panthers, while Surjit Singh also kept high-5 consecutive orange sleeves with him. Manjeet was the player to get the most 9 raid points in the match.
Sandeep Dhul stopped the raiders of Thalaivas
Jaipur Pink Panthers won the toss and Manjeet made the first raid for Tamil Thalaivas and opened the team's account. In the first half, both the teams improved their defense and hardly gave points easily. However, Arjun and Naveen gave the team the lead by scoring points in the raid for the Panthers. Jaipur further strengthened their lead by getting the Thalaivas all out. At the end of the first half, Pink Panthers were ahead 17-13. At the beginning of the second half, Manjeet caught his momentum and scored points in consecutive raids. In the second half also, the defense of both the teams was making excellent tackles and both got 5-5 tackle points. However, Jaipur was left behind in the raiding department and Thalaivas equalized in the match.
Surjeet and Co changed the story in the second half
In the second half, where Pink Panthers had got 6 raid points, Thalaivas had scored 10 points. Sandeep Dhul completed his high-5. In the second half, Surjeet also got support from Sagar and Sahil Singh and the three together made 12 successful tackles. Surjeet also completed his high-5, Sahil got 3 and Sagar got 4 tackle points. Both the teams were tied at 30-30 in the last minute but the match ended in a draw due to unsuccessful raids by Arjun and Manjeet. After this tie, both the teams have the same position in the end table. Surjit Singh will keep orange sleeves with him for getting the most tackle points in the season.
Pro Kabaddi League 2021-22: The way for these three teams to reach the playoffs was difficult, know why
Pro Kabaddi League 2021-22: These four teams will have to reach the playoffs of Pro Kabaddi League Season 8 easy
,