Sports
Shaili Singh created history, won silver medal in long jump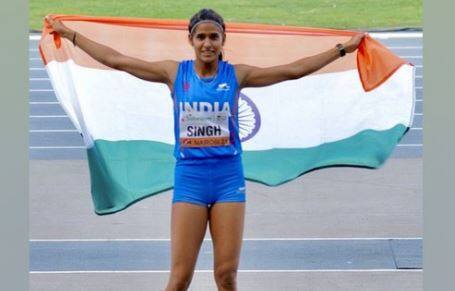 World Athletics U20 Championships: India's Shaili Singh improved her personal best of 6.48 meters to win the silver medal by jumping 6.59 meters in the women's long jump final on the final day of the World Athletics Under-20 Championships. The 17-year-old did a great job, but could not win the gold medal and had to settle for silver. Shelly is coached by former jumper Bobby George and his wife Anju Bobby George.
Shelly took the lead in her third attempt with a jump of 6.59m, but Sweden's Maja Askag jumped 6.60m in her fourth attempt to claim the gold medal. Shelly's next two attempts after the third attempt were fouls and she could only jump 6.37 meters in the sixth and final jump. Along with this, Maja also won a gold medal in the women's triple jump in the championship.
With Shelly winning the silver medal, India won its third medal in this championship. Before him Amit Khatri won silver and 4×400 mixed relay team won bronze medal.
Missed the gold medal by one centimeter
The 17-year-old could have won a gold medal in the long jump, but she missed out on just a centimeter. This Indian player gave his best effort with a jump of 6.59 meters. At the same time, Sweden's current European junior champion Maja Askag won the gold medal with a time of 6.60m.
Shelly could not control her emotions after the event and said with teary eyes, "I could have jumped better than 6.59 meters and won the gold. My mother asked me to sing the national anthem in the stadium after the gold medal. was told about (but I could not do it)."
She said, "I am 17 years old, I want to win a gold medal in the next Under-20 World Championship. Next year Asian Games and Commonwealth Games are to be held and I want to do well in those competitions."
Her coach Bobby George said she made a minor technical error while coming down after the jump, otherwise she could have won the gold. "She was crying after the event, she knew she could win gold. There was some technical problem while coming down the jump or else she could have covered 6.65 to 6.70 meters," he said.
.