Sports
Sahul Kumar and Sandeep Dhull's excellent defense helped Panthers beat Dabang Delhi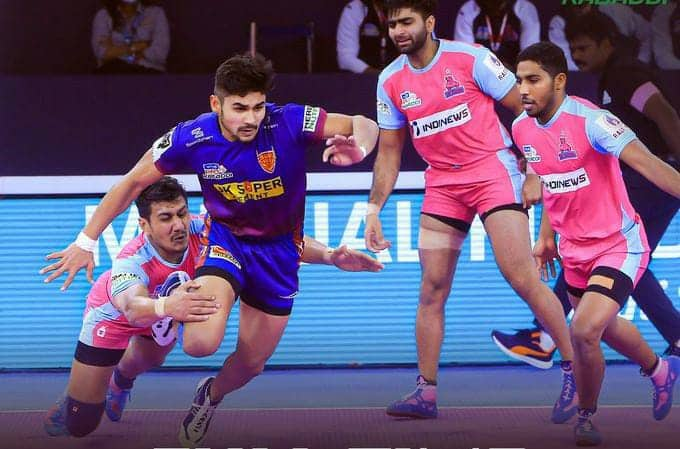 [ad_1]
Pro Kabaddi league Season 8, Jaipur Pink Panthers vs Dabang Delhi KC: Jaipur Pink Panthers defeated Dabang Delhi KC 30-28 in the 46th match of Pro Kabaddi League season 8 played at Sheraton Grand Whitefield in Bangalore on Monday. This is Dabang Delhi KC's first defeat of this season. Despite this defeat, Delhi remains at the first position in the points table with 31 points. With this win, Jaipur Pink Panthers has moved to the sixth position. In this match, Sahul Kumar completed High 5, then Naveen Kumar along with Arjun Deshwal missed his Super 10 Ray. Deepak Niwas Hooda got the most raid points in this match.
Defenders did wonders in the first half
Dabang Delhi KC won the toss and Sandeep Narwal tackled Arjun Deshwal and opened Delhi's account. Naveen Kumar already took a point in the raid but got injured. Sandeep Narwal lost points while trying to make an advance tackle to Deepak Hooda. Super Tackle to Naveen Kumar, Sahul Kumar gave Panthers two points. After this both the teams went on defensive mode but Ashu Malik dismissed two defenders and got Naveen back on the mat. In the last raid of the first half, Deepak Niwas Hooda was tackled and made Delhi equal. The score of the first half ended at 12-12. Sahul Kumar of Jaipur Pink Panthers had got 4 tackle points with a super tackle, while Sandeep Narwal and Manjeet Chhillar together had tackled four Panthers.
Arjun and Naveen did not have Super 10
In the second half, Naveen Kumar took the first point and achieved 600 raid points in his career. He has become the fastest player to get 600 raid points. After this, Naveen dismissed both the defenders and made the Pink Panthers all out and took Delhi 19-14 ahead. Deepak Niwas Hooda got the 900th raid point of his career with a bonus. Sahul Kumar completed his High-5 by tackling Naveen Kumar twice in a row. The last 10 minutes of play were left and the score was tied at 20-20. Naveen and Arjun had achieved 7-7 raid points for their respective teams. Dassing Arjun, Ashu Malik took Delhi ahead 25-21 with a super tackle. Tackled by Ashu Malik, Panthers all-out Delhi and took a 27-26 lead.
Naveen Kumar tried to take a touch point but did not succeed and Deepak took another point to give Jaipur a 2 point lead. After this, the defense of Jaipur Pink Panthers kept Naveen in check and maintained their lead. When the match ended, Jaipur Pink Panthers were ahead 30-28. This is Dabang Delhi's first defeat this season and Naveen Kumar along with Arjun Deshwal could not do Super 10 in this match.
Pro Kabaddi League 2021-22: These four legendary raiders have not been able to do even 10 raids in season 8, know how the previous record was
Pro kabaddi league: In the history of Pro Kabaddi League, this team has the record for the biggest win, Bulls made an unwanted record
,

[ad_2]