Sports
Puneri Paltan recorded its second consecutive win by defeating U Mumba, Nitin Tomar did high-5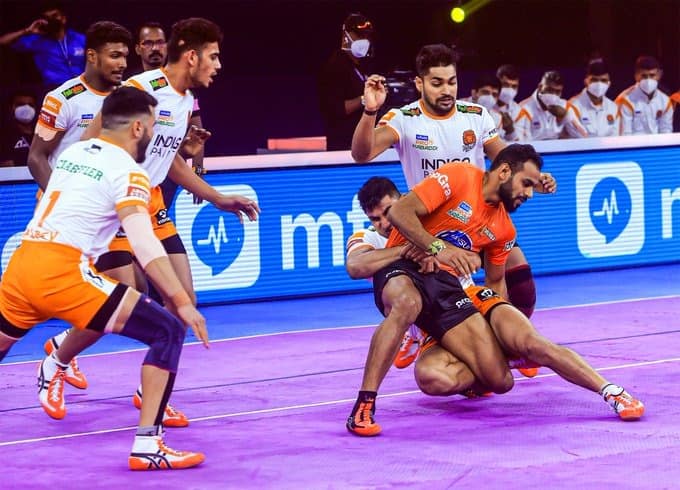 Pro Kabaddi league Season 8, U Mumba vs Puneri Paltan, Puneri Paltan defeated U Mumba 42-23 in the 52nd match of Pro Kabaddi League season 8 played at the Sheraton Grand Whitefield in Bangalore on Thursday. This is the fourth and second consecutive victory of this season of Paltan. From the beginning of the match, Puneri's defense showed a great game and the raiders of Mumba yearned for every single point. In this match, captain Nitin Tomar completed his first high-5 on behalf of Puneri Paltan, while Vishal Bhardwaj also completed his first high-5. Abhinesh Nadrajan and Baldev Singh together made 6 successful tackles. Captain Fazal Atrachali could get just one point from Mumba, then Rahul Sethpal completed his high-5.
Mumba trapped in the defense of platoon
In the first raid, the world's best left corner defender Fazal Atrachali was dismissed by Aslam Inamdar and opened the account of Puneri Paltan. After this both the teams kept scoring points in the raid but Vishal took the first defense of the match by tackling Jashandeep Singh in the Do or Die raid. After this, there was a fierce competition between the two teams and till 11 minutes both the teams were able to get only 6-6 points. Nitin Tomar did wonders in his very first raid and opened his account with Super Raid. On the other hand, Rahul Sethpal (Rahul Sethpal) was keeping U Mumba in the match by making 4 tackles, but the havoc of the defense of the platoon continued and made another excellent tackle to put the platoon ahead 16-9. After this, Nitin took two points in the defense and by the end of the first half, the Paltan led 18-10.
Nitin did all-round performance
The second half started with Aslam's super raid and put Paltan ahead 21-10. After this, Rahul Sethpal completed his high-5 with a brilliant tackle, while Aslam and Mohit Goyat, on the other hand, were able to keep the platoon ahead. Nitin Tomar dismissed U Mumba for the first time thrice this season with a successful raid. Puneri Paltan went ahead 34-16. Vishal Bharadwaj completed his high-5 by tackling Abhishek Singh. This was his first high-5 this season. In defense, the team of Paltan had scored 16 points. Nitin Tomar completed his high-5 with a super tackle and took the total number of scores to 9. When the match ended, Puneri Paltan took it 42-23. This is Paltan's fourth and second consecutive win of the season.
Pro Kabaddi League 2021-22: On the lines of IPL, best raider and best defender will be recognized in Pro Kabaddi league, players will wear sleeves of this color on the mat
Pro Kabaddi League: Naveen Kumar, who made many new records this season, also left Pardeep Narwal and Maninder Singh behind
,