Sports
Puneri Paltan got the first win of the season by one point against Titans in a tough fight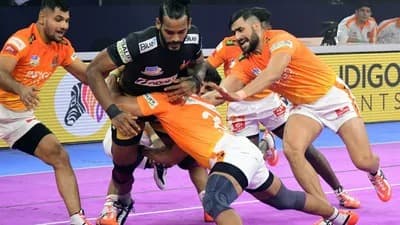 Pro Kabaddi League 2021-22, Telugu Titans vs Puneri PaltanPuneri Paltan defeated Telugu Titans 34-33 in a thrilling match in the 11th match of the Pro Kabaddi League played at Sheraton Grant Whitefield in Bangalore on Saturday. Siddharth Desai got 15 raid points in this match. Apart from him, no one else could support him. On the other hand, Abhinesh Nadarajan completed high-5 from Puneri, Mohit Goyat scored 9 and Aslam Imandar got 8 raid points.
Telugu Titans won the toss and chose the court and Rahul Chaudhary of Puneri Paltan did the first raid. Puneri Paltan opened their account by tackling Rohit Kumar. Siddharth Desai of Telugu Titans scored a point in his first raid and opened the team's account. Siddharth gave the team an edge by doing three consecutive successful raids. Two minutes were left in the first half and Siddharth raided for Telugu, Puneri's entire defense went to the lobby to catch him and Telugu got 6 technical points, in the next raid of Paltan, Telugu defense tackled Puneri's all got out.
In the next raid, Siddharth did a super raid and led the team by 6 points. A few minutes before the end of the first half, Siddharth's storm came and gave the team a 6-point lead by half time. At the end of half time, the score was 20-14. At the beginning of the second half, Puneri changed his strategy and sent Pankaj Mohite for the raid.
He carried the team's score forward with a successful raid. In the 5 minute game of the second half, where Telugu had taken only one point, Puneri's Paltan scored 4 points. After that Mohit Goyat super raided Telugu all out and gave the team a lead of 3 points. The team got five points in this raid. The game progressed and Telugu struggle continued.
Puneri Paltan dominated in the second half and in 9 minutes of play, Puneri got 11 points, while Telugu got only 1 point. Suddharth's super raid was seen and he got three players out and brought the team to a level of 25-25. In the next raid, Vishal Bharadwaj again put Puneri Paltan ahead by super tackled Siddharth. Rahul Chaudhary did not come on the court in the second half and Siddharth of Telugu Titans was doing successful raid for the team alone.
He completed his Super 10 raid. In the last 5 minutes, Siddharth made Telugu come back again. Surendra tackled Mohit and got Puneri all out and put the team ahead by 2 points. Both the teams were on equal footing and Aslam Hondar made a successful raid for Puneri and gave victory to the team. This is the first team of Puneri Paltan, while Telugu is still waiting for the first win this season.
,