Sports
PKL Dream 11 Tips: These players can remain superhit in Puneri Paltan vs UP Yoddha match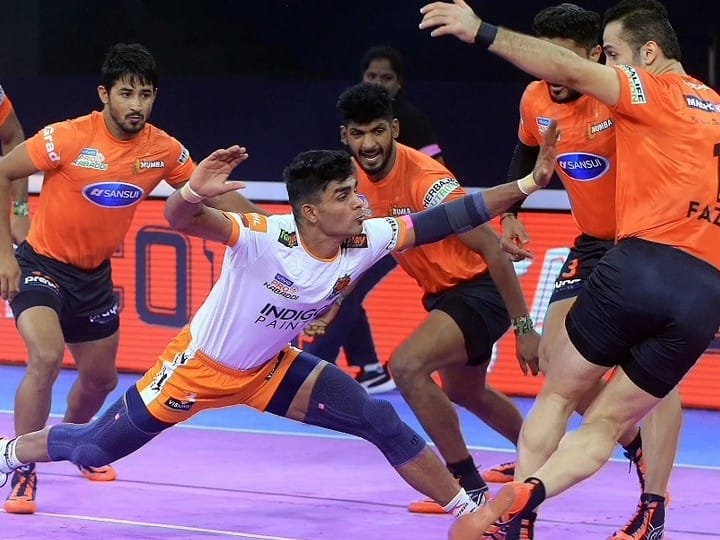 PKL Puneri Paltan vs UP Yoddha Dream 11 Tips: Puneri Paltan will face UP Yoddha in the 60th match of Pro Kabaddi League Season-8. In the league table, UP Yoddha is at the sixth position with 28 points, while Puneri Paltan is at the 10th position with 21 points.
The return of captain Nitin Tomar for Puneri Paltan is giving this young team the much needed experience. Nitin had scored 4 touch points and 5 tackle points in the last match. All-rounder Aslam Inamdar has emerged as the biggest hero of Pune this season so far. This player is performing well in both raid and tackle. In the last match too, this player had collected a total of 7 points with 4 successful raids. Even against the UP warrior, the responsibility of the team's attack will depend more on these two players. With this, the responsibility of defense will be commented on Vishal Bhardwaj and Abhinesh Nadarjan. Vishal had 5 successful tackles and Abhinesh had 4 successful tackles in the last match.
Surender Gill is continuously raiding for the UP Yoddha. In the last match, he had 6 successful raids. There will be a lot of expectations from him in this match as well. Talking about the team defense, the pair of captain Nitesh Kumar and Sumit has been creating trouble for the opposition raiders. In the last match too, both had performed brilliantly.
This could be your Dream-11 team:
1. Aslam Inamdar, All-rounder (Puneri Paltan): Captain
2. Surender Gill, Raider (UP Yoddha): Vice Captain
3. Sumit, Defender (UP Yoddha)
4. Nitin Tomar, Raider (Puneri Paltan)
5. Vishal Bhardwaj, Defender (Puneri Paltan)
6. Nitesh Kumar, Defender (UP Yoddha)
7. Abhinesh Nadarjan, Defender (Puneri Paltan)
IND vs SA Test Series: This happened for the fourth time in Test cricket, without scoring a century, a team defeated the team that scored 2+ centuries in the series.
IND vs SA: South Africa did not reach 250 runs even once in the series, yet won the match, this happened for the first time in Test cricket
Both Teams:
Puneri Paltan
Raiders: Pawan Kumar Kadian, Pankaj Mohite, Mohit Goyat, Rahul Chaudhari, Nitin Tomar, Vishwas
All-rounders: Govind Gurjar, Victor Onyango Obiero, Subhash (E Subash)
Defenders: Balasaheb Shahaji Jadhav, Hadi Tajik, Sanket Sawant, Vishal Bhardwaj, Baldev Singh, Sombir, Karamvir, Abinesh Nadarjan ( Abinesh Nadarajan, Saurav Kumar
UP Yoddha
Raiders: Ankit, Gulveer Singh, James Kamweti, Mohammad Taghi, Pradeep Narwal, Sahil, Shrikant Jadhav, Surender Gill )
Defenders: Ashu Singh, Ashish Nagar, Nitesh Kumar, Gaurav Kumar, Sumit (Sumit)
All-rounders: Gurdeep, Nitin Panwar
,