Sports
Nitish Rana took such a shot that the lens of the camera broke, watch this funny video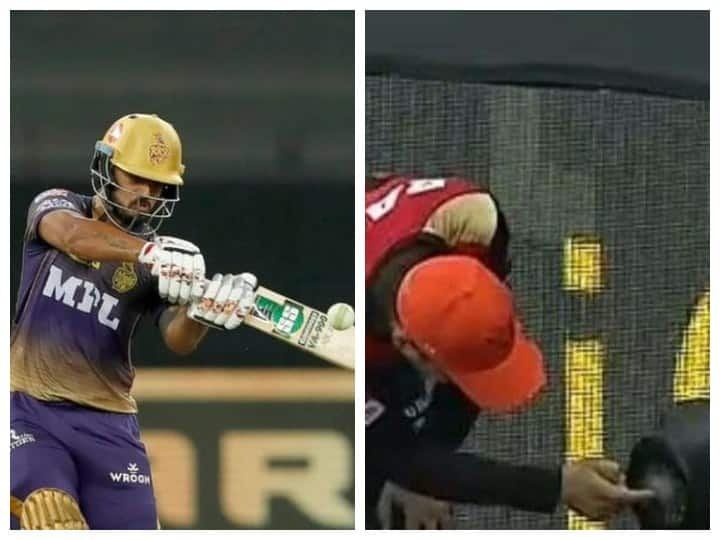 IPL 2021: In T20 cricket, you must have seen the ball crossing the boundary and breaking the glass of a window or fridge many times. But have you ever seen the ball breaking the camera lens across the boundary line after the batsman's shot? A similar sight was seen in the match played between Kolkata Knight Riders and Sunrisers Hyderabad yesterday. On Nitish Rana's pull shot, the ball hit the lens of the camera outside the boundary rope, due to which the lens broke.
During the 18th over of KKR's innings, Nitish Rana, who was at the crease, played this pull shot off Jason Holder. The ball took a hit and hit the middle of the camera (buggy-cam) outside the boundary line. In which the lens of this camera broke.
Sunrisers spin bowler Rashid Khan was then seen checking the camera lens in a special way.
KKR register easy win
To keep the hopes of reaching the playoffs alive, KKR had to win this match at any cost. The KKR bowlers kept their grip on the match from the beginning and restricted Hyderabad to just 115 runs. After this, KKR, chasing the target, lost the wickets of Venkatesh Iyer 08 and Rahul Tripathi 07, but after this, Shubman Gill and Nitish Rana shared a 55-run partnership to ensure their victory. Gill played an innings of 57 runs in 51 balls with the help of 10 fours. At the same time, Nitish Rana scored 25 runs in 33 balls with the help of three fours.
read also
IPL 2021: This decision of DRS came in controversy in the match between Bangalore and Punjab, demand raised on Twitter to remove third umpire
IPL 2021: David Warner seen in the field, cheered for his team Sunrisers Hyderabad from the stands, watch video
.