Sports
Naveen Kumar made another record, beat Pardeep Narwal and Maninder Singh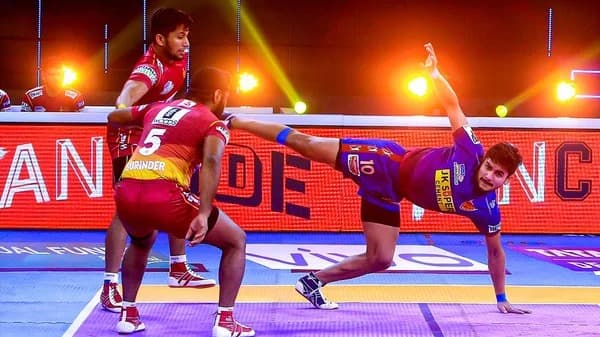 Pro Kabaddi league Season 8: In Pro Kabaddi League Season 8, some players have performed with a bang from the beginning, while some players are slowly returning to their rhythm. But this season there is one player who has maintained the momentum that he had caught from the beginning. Naveen Kumar, who made his Pro Kabaddi debut with Dabang Delhi in Season 6, played 22 matches in 2018 and scored 177 raid points. In season 7, Naveen increased his speed and became the third most successful raider of the season by getting 303 raid points in 23 matches. This season Naveen has achieved 130 raid points in 8 matches.
Another record in the name of Naveen Express
Jaipur Pink Panthers and Dabang Delhi KC came face to face in the 46th match of Pro Kabaddi League season 8 played at Sheraton Grand Whitefield, Bangalore on 10th January, where Delhi won 30. Lost by -28. This was Dabang Delhi KC's first defeat of this season. This was the first match in which Naveen Kumar missed out on completing his Super 10. But he did such a feat, which even legendary raiders like Pardeep Narwal, Pawan Sehrawat and Maninder Singh have not been able to do in history. In the second half of the match against Jaipur, Naveen Kumar got the 600th raid point of his career as soon as he took the first point. He has become the fastest player to get 600 raid points.
Pardeep and Maninder left behind
Naveen Kumar has touched the 600 mark in the 53rd match of his career. In this way he became the fastest player to get 600 raid points. Earlier this record was held by Pardeep Narwal, who touched 600 in his 63rd match. At present, Pardeep Narwal has achieved more than 1200 raid points. In this case, Bengal Warriors captain Maninder Singh is in third place, who scored 600 raid points in the 68th match of his career. Breaking Naveen Kumar's record will not be easy. Because in Pro Kabaddi, any player who is close to 600 raids has played more matches than Naveen.
Pro Kabaddi League 2021-22: On the lines of IPL, best raider and best defender will be recognized in Pro Kabaddi league, players will wear sleeves of this color on the mat
Pro Kabaddi: This is the favorite cricketer of Kabaddi King Pardeep Narwal, the coach said that the stars made him strong
,