Sports
Mohammad Amir took a jibe at Harbhajan Singh, 'Bhajji' bowled by throwing 'spin'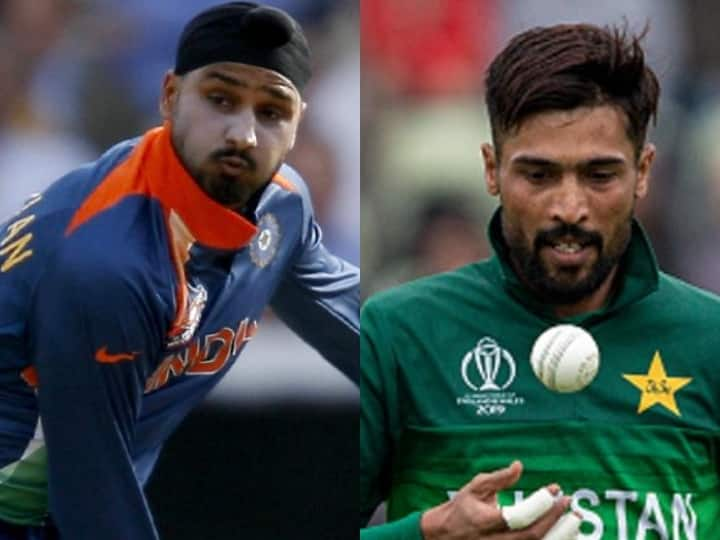 Harbhajan Attacks on Amir: Indian cricket team's legendary spinner Harbhajan Singh and former Pakistan fast bowler Mohammad Amir got fiercely seen on Twitter. While Aamir was constantly taunting Harbhajan Singh, while Bhajji washed Mohammad Amir in a strong way. In such a situation, we know how this whole matter started. Actually, for the first time India had to face defeat at the hands of Pakistan in the World Cup. So before the match, Harbhajan Singh took a jibe at the Indian team's record against Pakistan in the World Cup. Harbhajan had said that in view of the old record, Pakistan should give a walkover to India.
After India's defeat, former Pakistan fast bowler Mohammad Amir took a dig at Harbhajan Singh by tagging him on Twitter. Aamir wrote, "Adab everyone, I wanted to know if Harbhajan paaji did not break his TV? Video shared. With this, he wrote the caption, "Now you will also say Mohammad Aamir, this six did not land on the TV of your house? nobody happens in the end it's just a game as you said"
hello everyone woh pochna yeah tha @harbhajan_singh paa ji ne TV to ni tora apna koi ni hota hai end of the day its a game of cricket .

— Mohammad Amir (@iamamirofficial) October 25, 2021
Mohammad Amir shared a video after Bhajji's tweet. In which India-Pakistan are playing a test match. Along with the video, Aamir wrote, "I was a little busy Harbhajan Singh, watching your bowling. When Lala (Shahid Afridi) hit 4 sixes in your 4 balls. It's cricket. may seem. But in Test cricket it has become a bit much.
Ab Tum bi bologe @iamamirofficial yeh 6 ki landing tumhare ghar k tv par to nahi hui thi ?? Koi nahi hota hai end of the day it's a game of cricket as u rightly said https://t.co/XqSnWhg9t3 pic.twitter.com/4IuWpPOpF1

— Harbhajan Turbanator (@harbhajan_singh) October 26, 2021
After this video, Harbhajan Singh got furious and wrote replying to Mohammad Amir. "How was there a no ball at Lord's? Who took how much? Test cricket is no ball how can it be? Shame on you for defaming this beautiful game.
WHO did not approve the emergency use of Covaxin, next meeting will be held on November 3
.