Sports
Know who is Jaya Bhardwaj, Deepak Chahar, who got engaged after the match in the stadium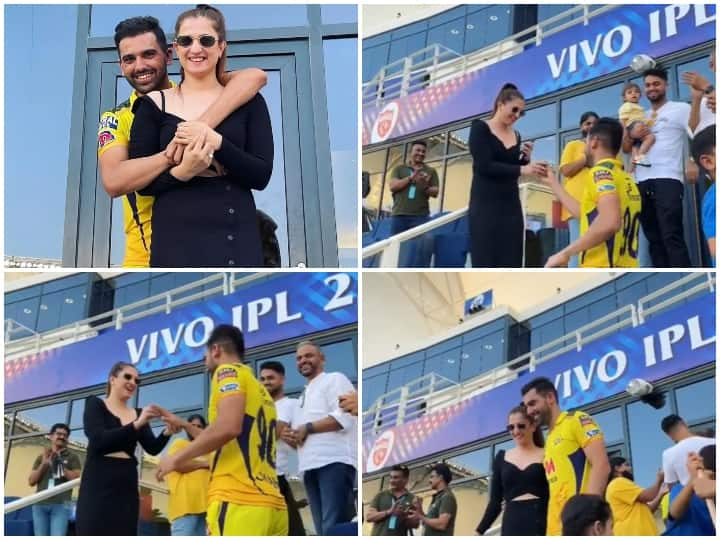 [ad_1]
Deepak Chahar's girlfriend Jaya Bharadwaj: In the 53rd match of IPL 2021, Punjab Kings defeated Chennai Super Kings by six wickets. After this match, Chennai Super Kings fast bowler Deepak Chahar went to the audience gallery, where he gave a ring to his girlfriend. Chahar got engaged by wearing a ring to his girlfriend in front of the audience in the stadium. After that both of them hugged each other. Seeing this sight, Chennai captain MS Dhoni was seen laughing.
After Chennai's defeat, Deepak Chahar went to his girlfriend sitting in the audience gallery and proposed her on his knees. His picture is becoming very viral on social media. Deepak's girlfriend has accepted the proposal. Deepak Chahar, while posting his video and pictures on Instagram, wrote- "Special moment. Pictures say everything. Will need all your prayers."
Since then everyone is trying to know about Deepak Chahar's girlfriend. First of all, let us tell you that the name of Deepak's girlfriend is Jaya Bhardwaj. Here we will tell you who is Jaya Bhardwaj? What does Jaya Bhardwaj do? Love story of Deepak Chahar and Jaya Bhardwaj?
Know who is Jaya Bhardwaj
Jaya Bhardwaj is the sister of former Bigg Boss contestant and actor Siddharth Bhardwaj. Jaya and Deepak are dating each other for a long time. Jaya was seen sitting in the stands in Chennai matches several times this year. But these two were not seen together.
Jaya Bhardwaj has graduated from Mumbai University. She is currently working in a corporate firm. Jaya is a resident of Delhi. According to the news, Deepak Chahar had already introduced Jaya to his fellow players of Chennai Super Kings.
.

[ad_2]