Sports
Jarvo entered the field as 'Indian batsman', video is going viral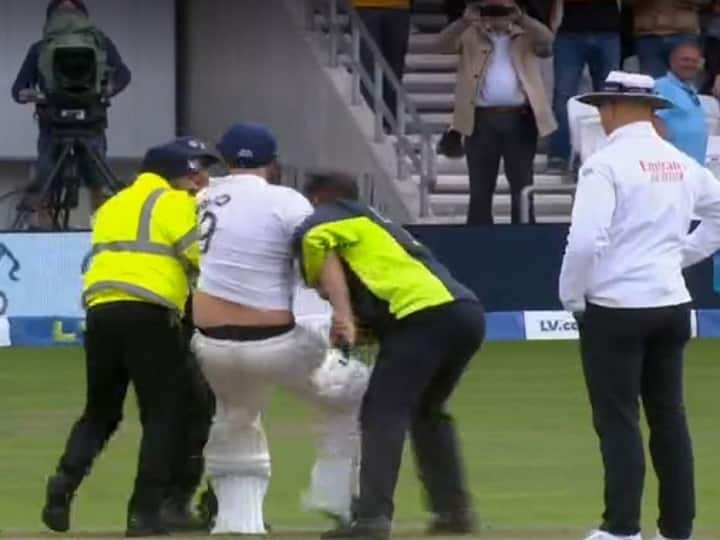 India Vs England 3rd Test: The third Test is being played between India and England at Headingley ground in Leeds. But on the third day of the match, a cricket fan named Jarvo once again entered the field. Not only this, apart from the jersey number 69, this time Jarvoo was also wearing a pad and a helmet.
Jarvoo tried to enter the field as an Indian batsman in Leeds. When Rohit Sharma was out in the second innings, Jarvoo entered the field. The umpires, however, immediately called the security guards to get Jarvoo off the field.
Jarvo, however, is now a topic of discussion on social media. Pictures and videos of Jarvoo entering the field are going viral on social media. Compared to the last time, this time Jarvoo was able to reach the crease and he also tried to take a stance as an Indian batsman. This was the second time that Jarvoo entered the field.
Entered the field in Lord's Test too
He entered the Lord's ground during the fourth day's play of the second Test between the two teams. Fielding was reacting like a set for the Indian team. Mohammad Siraj and Ravindra Jadeja could not stop their laughter due to this act of his. He was wearing the Indian team jersey on the Lord's ground and his name was written on the back of the T-shirt.
During the Lord's Test also, Jarvoo was caught by the security guards and taken out of the field. Some pictures of Jarvo have also come to the fore, which shows that he lives wearing India jersey even at his home. However, Jarvoo may also face action for entering the field twice.
Tokyo 2020 Paralympics: Bhavin Patel said – nothing is impossible, I proved it by defeating China
.