Sports
Jaipur Pink Panthers beat Patna Pirates 38-28 to enter top 4 in points table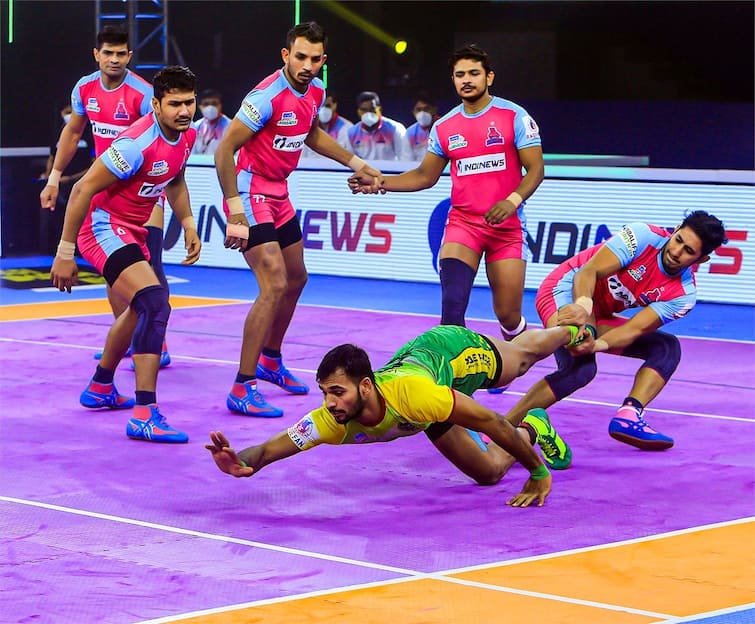 Pro Kabaddi league Season 8, Jaipur Pink Panther vs Patna Pirates, Jaipur Pink Panthers defeated Patna Pirates 38-28 in the 53rd match of Pro Kabaddi League season 8 played at Sheraton Grand Whitefield in Bangalore on Friday. In this match, Arjun Deshwal and Deepak Niwas Hooda managed to get 9-9 raid points, while Monu Goyat and Prashant Rai got 6-6 points for Patna Pirates. A better grip in the defense of Sahul Kumar was also seen in this match and he made 4 successful tackles. Patna's defense did not work in this match at all. This is the third consecutive victory of Jaipur Pink Panthers and has come to the fourth position in the points table.
Defense of Patna Pirates was ineffective
Patna Pirates won the toss and Arjun Deshwal went to raid first for Pink Panthers. Pirates' biggest star Monu Goyat opened Patna's account by dismissing two defenders in the first raid. Arjun got Jaipur's first point in the second raid. Deepak Hooda gave his team the third point by doing two consecutive successful raids. Point came in defense for the first time in the 10th minute, when Amit Hooda tackled Sachin Tanwar in a do or die raid to level Jaipur 7-7. After this, Deepak Hooda for Jaipur and Monu and Prashant Rai for Pirates got the points and scored 11-11. Vishal gave a brilliant tackle to Monu Goyat to give Jaipur a 16-12 lead. In the last raid of the first half, Arjun got two more points to take an 18-12 lead.
Arjun-Deepak duo did amazing
At the beginning of the second half, both the teams slowed down their pace a bit. Prashant Rai dismissed the defenders of both the Panthers in the same raid and took Patna to 17 points. The defense of Patna Pirates was ineffective in this match so far. While Panthers had secured 6 points, Patna could only manage three tackles. The last 9 minutes of play were left and the Panthers were ahead 25-20. After this, Patna got two points by super tackle by Arjun Deshwal but Deepak took two points in the raid and made the score 29-22. Jaipur reached 30 points by tackling Monu. Guman Singh's unsuccessful raid made Patna all out for the second time and Panthers took a 36-25 lead. In the last raid of the match, Monu Goyat got a point by touching Vishal but could not reduce the margin of victory to 7 and Panthers won the match 38-28.
Pro Kabaddi League 2021-22: In the history of Pro Kabaddi, these five defenders who have beaten the raiders have not been effective this year
Pro Kabaddi League: Naveen Kumar, who made many new records this season, also left Pardeep Narwal and Maninder Singh behind
,