Sports
In the absence of Naveen Express, this can be the perfect captain of your Dream-11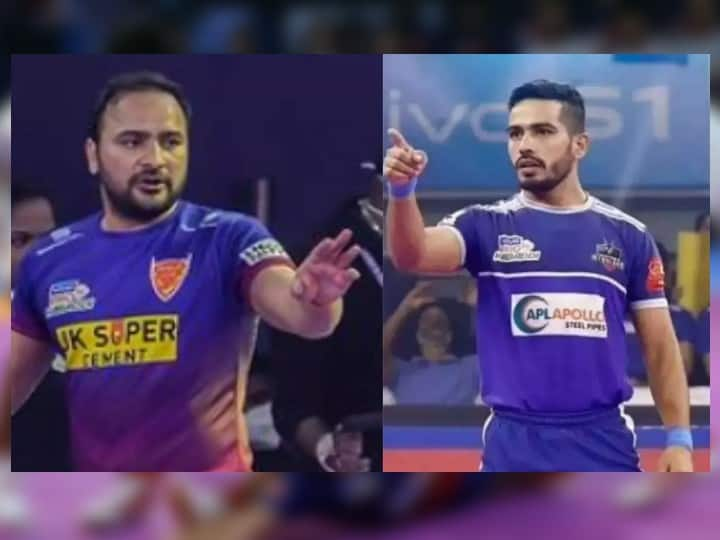 PKL Haryana Steelers vs Dabang Delhi Dream 11 Tips: Haryana Steelers will face Dabang Delhi in the 55th match of Pro Kabaddi League Season-8. In the league table, Dabang Delhi is at the third position with 32 points, while Haryana Steelers is at the eighth position with 23 points.
Dabang Delhi started this season in a strong way, but in the last 2 matches, it has to face defeat. Delhi has got 5 wins, 2 ties and 2 losses in 9 matches of this season. In the last match, the absence of raider Naveen Kumar weighed heavily on Delhi. The team lost 61-22 at the hands of Bengaluru Bulls. This was the second biggest defeat of Pro Kabaddi.
It is also difficult for Naveen Kumar to enter the match against Haryana. In such a situation, Vijay can be in the role of the main raiders for the team. All-rounder Vijay has made 31 successful raids and 3 successful tackles so far this season. Defense Manjit Chillar is seen coming into the rhythm. With him, Sandeep Narwal can also show amazing in this match.
Captain Vikas Kandola has been making successful raids for Haryana Steelers. In the last match too, he had scored 17 raid points. Team's all-rounder Mitu is also supporting his captain very well. He had also collected 6 raid points in the last match. Surender Nadda and Jaideep will be responsible for the team's defense. Surender Nadda has made 24 successful tackles this season.
This could be your Dream-11 team:
1. Vikas Kandola, Raider (Haryana Steelers) : Captain
2. Surender Nadda, Defender (Haryana Steelers): Vice Captain
3. Vijay, all-rounder (Dabang Delhi)
4. Sandeep Narwal, Defender (Dabang Delhi)
5. Meetu, Raider (Haryana Steelers)
6. Jaideep, Defender (Haryana Steelers)
7. Manjit Chillar, all-rounder
IND vs SA 3rd Test: This happened for the first time, despite a century, Team India could not even score 200 runs in an innings
Cape Town Test: Indian wicketkeepers have scored 6 centuries outside Asia, half of them in the name of Rishabh Pant
Both Teams:
Dabang Delhi KC
Raiders: Naveen Kumar, Ashu Malik, Neeraj Narwal, M.Ed Sedaghat Nia, Ajay Thakur, Sushant Sail
All-rounders: Vijay Kumar, Balram, Sandeep Narwal, Manjeet Chillar
Defenders: Sumit, Mohit, Joginder Narwal, Mohammad Malak, Jeeva Kumar, Vikas (Vikas), Ravinder Pahal
Haryana Steelers
Raiders: Akshay Kumar, Ashish, Vikash Chandola, Mohammad Ismail, Vinay (Vinay)
All-rounders: Ajay (Ajay), Hamid Nader, Rajesh Narwal, Rohit Gulia, Shrikant Tewthia, Vikas Jaglan
Defenders: Ravi Kumar, Chand Singh, Rajesh Gurjar, Surender Nada
,