Sports
Haryana Steelers beat UP Yoddha 36-35 in a thrilling match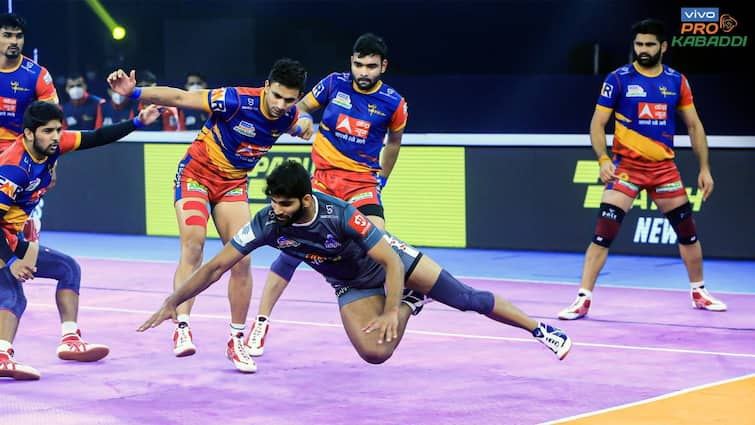 [ad_1]
Pro Kabaddi league Season 8, UP Yoddha vs Haryana Steelers, In the 73rd match of Pro Kabaddi League season 8 played at Sheraton Grand Whitefield in Bangalore on Sunday, UP Yoddha was defeated by Haryana Steelers 36-35 in a close match. With this win, Steelers have moved up to fifth place in the points table.
On the other hand, UP Yoddha remains in fourth place despite the defeat. In this match, Jaideep and Mohit completed their high-5 on behalf of Haryana Steelers. In the match, Shrikant Jadhav got the most raid points and completed his Super 10. From UP Yoddha, Shubham Kumar again performed brilliantly and got 4 tackle points, while captain Nitesh Kumar got 3 and Sumit Sangwan got 2 points.
Steelers' defense put up a united performance
Haryana Steelers won the toss and Pardeep Narwal went to raid first for UP Yoddha. Pardeep opened the account for UP, then Vinay also managed to get the Steelers points in the first raid. UP's defense showed a great game in the beginning and took the lead with three excellent defenses. Sumit Sangwan and Shubham Kumar scored some excellent dashes to give UP points in defence.
Surender Nada and Jaideep also displayed their brilliant tackles and took the Steelers 11-9 ahead. At the end of the first half, Haryana Steelers were ahead 15-14. In the first half, Jaideep scored 3, Mohit 4 and Surender Nada got 2 tackle points for Haryana Steelers. On the other hand Pardeep Narwal got 5 raid points, while Shubham got 4 tackle points. Haryana had scored 9 tackle points, while UP Yoddha had 6 tackles.
The final raid was decided, the decision of the match
In the second half, Vikas Khandola raided and brought UP Yoddha close to All Out. After this, Steelers took a 22-17 lead by getting all out. After this, excellent tackle in Steelers' defense and mistakes in UP's raiding put Steelers ahead 27-20. Mohammad Taghi gave indications of the return of UP by taking four points in a single raid.
With the last 10 minutes of play left, Haryana Steelers were ahead 29-25. After this, Pardeep's brilliant raid and UP's defense all-out Haryana made the score 31-32. Jaideep completed his High 5 (High-5) by tackling Pardeep. After this Mohit also completed his high 5 and gave Haryana a 34-31 lead.
Shrikant Jadhav made a Super Raid to level UP 35-35 and also completed his Super 10. In the last raid, Vinay took the bonus points and gave Haryana a 36-35 win. With this win, the Steelers have taken the fifth place.
Pro Kabaddi League: These are the five defenders who completed the most high-5 in Pro Kabaddi season 8, Manjit Chillar out of top-5
Pro Kabaddi: These are the five players who hit the most Super 10s in Pro Kabaddi season 8, Pardeep Narwal out of top-5
,

[ad_2]