Sports
Gujarat Giants beat Jaipur Pink Panthers 34-27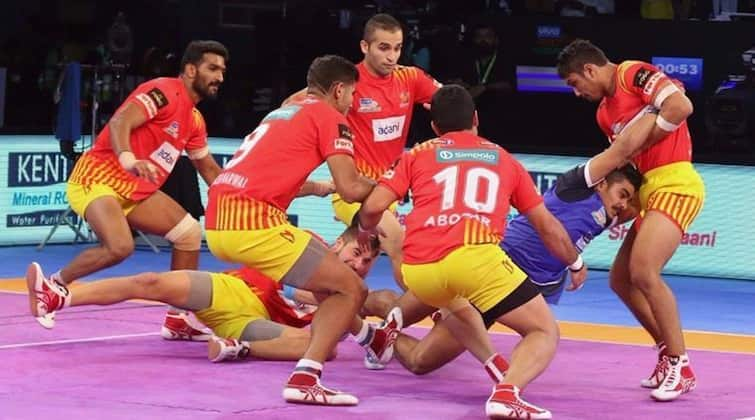 Pro Kabaddi League Season 8, Gujrat Giants vs Jaipur Pink PanthersGujarat Giants defeated Jaipur Pink Panthers 34-27 in the fourth match of Pro Kabaddi League played at Sheraton Grant Whitefield in Bengaluru on Thursday. In this match, Rakesh Narwal and Girish Ernak scored 7-7 points for the Gujarat team, while Rakesh scored 6 and Parvesh Bhainswal scored 4. Deepak Niwas Hooda could not cast his spell for Pink Panthers and could only get 4 raid points, while Arjun Deshwal completed the Super Ten Raid. Nitin Rawal, Amit Hooda and Sandeep Dhul also scored two points each for the Jaipur team, but they could not win their team.
The match started with the raid of Rakesh Narwal of Gujarat Giants. His raid was unsuccessful but Deepak Niwas Hooda opened the account of Jaipur in the first raid. While the raiders of Jaipur Pink Panthers were performing brilliantly in the first 10 minutes, the defenders of Gujarat Giants kept trying to stop them with their tackles. At the end of the half, Gujarat's team was ahead by two points and Jaipur's team was on 17 points despite a great raid. During this, the Gujarat team had secured 7 tackle points, while Vishal and Amit Hooda were trying to tackle the raiders of Rakesh and Co from Pink Panthers.
At the beginning of the second half, Pink Panthers tried to make a comeback, Arjun Deswal along with Deepak Niwas Hooda took charge of the raid and raided the Super Ten. Apart from this, Deepak also got four raid points. On the other hand, the Gujarat team was tied in the match with all-round play. Rakesh Narwal and Rakesh Sungroya were taking raid points for the team, while Girish Ernak and Parvesh Bhainswal were handling the defence. From Gujarat, captain Sunil Kumar and veteran defender Ravinder Pahal were completely flop in this match.
The match again took a turn in the last five minutes and Gujarat took the lead with two points. Rakesh Narwal's excellent form continued and he kept trying to maintain the team's lead with his raid. The last minute of the game was left and Ravinder Pahal's amazing tackle was seen and Naveen was dismissed to extend his lead to two points. After this, Gujarat showed solidarity and got three points by all-out Pink Panthers. Arjun Deswal got tackled in the last raid of the match and Gujarat Giants won the match 34-27. For Gujarat, Girish Ernak got 7 and Parvesh Bhainswal got 4 tackle points.
,