Sports
Despite defeating Titans, Bengal Warriors are out of top 6, Maninder completes 9th Super 10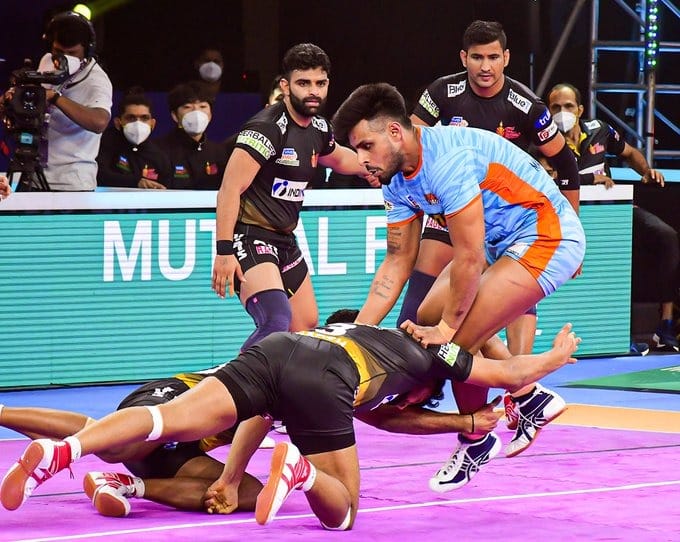 Pro Kabaddi league Season 8, Telugu Titans vs Bengal Warriors, In the 61st match of Pro Kabaddi League season 8 played at Sheraton Grand Whitefield in Bangalore on Monday, Telugu Titans were defeated by Bengal Warriors 28-27 in a thrilling match. Maninder Singh completed his 9th Super 10 of this season, while Rajneesh was the highest scorer for Telugu Titans with Super 10. Telugu started well in this match and maintained their lead consistently. At the end of the first half, Bengal made a comeback but in the second half, the Titans again took the lead. In the last minute, the pair of Maninder Singh and Ran Singh showed a great game and wrote victory for Bengal in the match of the fork.
Titans got off to a great start
Bengal Warriors won the toss and invited Telugu Titans to raid first. Ankit Beniwal did an empty raid but Maninder Singh opened Bengal's account by dismissing Surender Singh. Rajneesh was held back by Ran Singh and gave Bengal the second point. After this the defense of both the teams showed a great game. Akash Chaudhary from Telugu Titans and Ran Singh for Bengal Warriors remained a threat to the raiders. Maninder Singh was held up by the Titans' defense, although Sukesh Hegde was scoring points in the raid, Rajneesh and Ankit Beniwal managed to tie Telugu. With two minutes left to play, Nabibaksh took the lead against the defending champions. However, Maninder Singh made a successful raid just before the first half to put Bengal Warriors ahead 14-13.
Maninder Singh and Ran Singh changed the dice of the match
When the second half started, captain Sandeep Kandola equalized the score by tackling Mohammad Nabibaksh. After this, Titans took a 16-14 lead by dismissing Maninder Singh as well. Titans strengthened their lead by doing Super Raid by Rajneesh. Bengal's defense made a super tackle and got Maninder Singh back on the mat and he reduced Telugu's lead by taking two points. The last five minutes of play were left and the Titans were ahead 23-22. Maninder Singh equalized the score by dismissing Surender. Ran Singh took an all out lead by 27-25. Rajneesh completed his third Super 10. Rajneesh got a point in the last raid but could not avoid Telugu's defeat. Telugu Titans lost the match by 28-27.
Pro Kabaddi League 2021-22: The way for these three teams to reach the playoffs was difficult, know why
Pro Kabaddi League 2021-22: These four teams will have easy access to the playoffs of Pro Kabaddi League Season 8
,