Uncategorized
Demand of insurance companies to get separate tax exemption on payment of insurance premium of Rs 1 lakh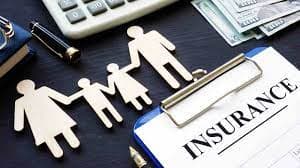 Budget 2022: There is only a short time left in the presentation of the budget. All sectors are submitting their list of demands to the Finance Minister. Insurance companies have also placed their demands in front of the government. Insurance companies have demanded that taxpayers should be given tax exemption under Section 80C of Income Tax, separately on payment of insurance premium only.
Separate tax exemption on insurance premium
Insurance companies believe that most people in the country are still away from insurance. It is very important to get the benefit of insurance to as many people as possible. This is the reason why tax exemption has been demanded on payment of insurance premium up to Rs 1 lakh separately under 80C of Income Tax in the budget. Tarun Rustagi of Canara HCBC OBC Life Insurance has said that there has been a long standing demand of the insurance industry to encourage people to take an insurance policy by giving them the benefit of a separate tax deduction of Rs 1 lakh under 80C.
Demand to reduce GST rate on mediclaim
Insurance companies have demanded reduction of GST (Goods and Services Tax) on health insurance products. Insurance companies have demanded to reduce the GST rate on health insurance from 18 percent to 5 percent so that health insurance can be made affordable to the people. Apart from this, the tax exemption limit on mediclaim under 80D should be increased to 50 thousand rupees. According to Rupam Asthana, CEO, Liberty General Insurance, health insurance has become a daily part of everyone's life due to the Kovid epidemic, through which they can protect themselves.
Tax exemption is available on investment of 1.5 lakh
Let us tell you that at present, under section 80C of Income Tax, the benefit of tax exemption is available on investment of Rs 1.50 lakh. This amount of Rs 1.5 lakh includes investment made in NSC by taking insurance, PPF, ELSS. Edelweiss Tokio Life Insurance Executive Director Subhrajit Mukhopadhyay has also sought the benefit of tax deduction on payment of insurance premium.
insurance is out of reach
According to the IRDAI's annual report for 2020-21, insurance penetration in the country is only 4.2 percent of GDP, while the global average is 7.4 percent. On the other hand, the reach of non-life insurance products is limited to only 1 percent.
read this also
Budget 2022: Government should help the employed-poor to increase consumption, the demand of the Finance Minister for the retail sector affected by the Corona period
PM Kisan Scheme: Farmers can get a big gift in the budget, there may be an increase in the amount received under PM Kisan Samman
,