Sports
Defending champion Bengal Warriors defeated UP Yoddha in the first match of season 8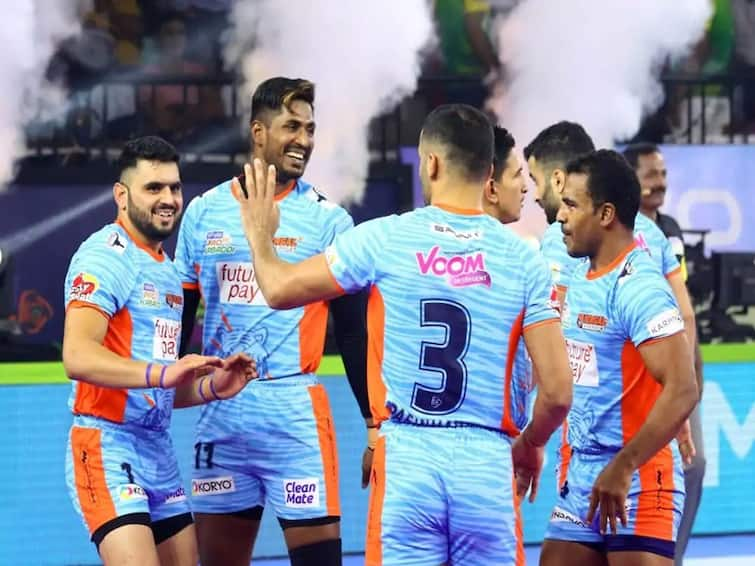 [ad_1]
Pro Kabaddi League 2021-22: Bengal Warriors defeated UP Yoddha 38-33 in the third and final match of the Pro Kabaddi League played at the Sheraton Grand in Bengaluru on Wednesday. For Warriors Mohammad Ismail Nabibaksh scored the highest 11 points, while Pardeep Narwal scored 8 points for UP Yoddha, Surender Gill scored 5 points. There was a fierce competition between the two teams in the first half. But in the second half, the defense of the UP warrior became weak and only Pardeep Narwal was visible in the name of the raiders. In this way, Bengal showed a great game in the second half and won the match.
The match started with the captain of the UP Yoddha raid and he was unsuccessful in the very first raid. Maninder got the first point of the match by taking raid point for Bengal Warriors. After this, the players of Bengal were raiding on the raid, while on the other hand only Pardeep Narwal was taking the responsibility of raiding alone on behalf of the UP warrior. After the first half, both the teams were tied at 18-18. UP Yoddha had 13 raid points, 5 tackles and 2 all outs, while Bengal had 12 raids, four tackles and two all outs to UP.
In the second half, Bengal Warriors slowly picked up the pace and took the lead against UP. Mohammad Ismail Nabibaksh, Sukesh Hegde and Maninder Singh were continuously giving points to the team by raiding, while Pardeep Narwal, on the other hand, was leading the team alone. However, Nitesh Kumar was encouraging Pardeep with some excellent tackles in the defence. When the last four minutes were left in the match, UP Yoddha was on 29 points and they were still 8 points behind Bengal Warriors.
UP Yoddha was under increasing pressure in the last minutes, they had to score at least two points in each raid to make a comeback in the match. Bengal's strategy was clearly visible, they were trying to take out as much time as possible in the raid. The last raid of the match was sent to Surender Gill of UP Yoddha. Tackling him, the Bengal Warriors made their score 38 and thus started the season 8 with a win. Mohammad Ismail Nabibaksh scored the highest score for the Warriors. His 11 points included 7 touch points, three tackles and a bonus point. Pardeep Narwal scored 8 points for UP Yoddha, while Surender Gill scored 5 points.
read this also – Marnus Labuschagne Journey: Out for zero in debut, yet became the world's number one batsman in 20 Tests, know how Marnus Labuschagne's journey was
,

[ad_2]