Sports
Coaches of big cricketers like Rishabh Pant, Shikhar Dhawan and Ashish Nehra are no more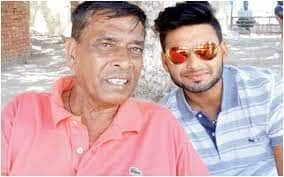 [ad_1]
Rishabh Pant in mourning: Famous cricket coach Tarak Sinha, who nurtured the talent of many renowned cricketers like Rishabh Pant, Shikhar Dhawan and Ashish Nehra, passed away in the early hours of Saturday. Tarak Sinha, 71, was battling cancer for some time. Recently he had multi organ failure. Sinha has trained many players. He was associated with Delhi's famous cricket club Sonnet Club. From here he has manjha many big players.
Many big players like Rishabh Pant given to India
Tarak Sinha trained players of many generations. There are many big names in the list of his disciples. He taught the nuances of cricket to many more cricketers like Surendra Khanna, Sandhir Singh, Raman Lamba, Manoj Prabhakar, Ajay Sharma, KP Bhaskar, Atul Wassan, Ashish Nehra, Sanjeev Sharma, Akash Chopra, Shikhar Dhawan, Anjum Chopra and Rishabh Pant.
Tarak Sinha's stature in cricket coaching can be gauged from the fact that he is the fifth cricket coach to receive the Dronacharya Award in this field. Apart from them, only Desh Prem Azad, Gurcharan Singh, Ramakant Achrekar and Sunita Sharma have received this award.
Sonnet Club expressed grief
On the death of Tarak Sinha, Sonnet Club said in its statement, 'We have to share with sadness the news that he passed away early Saturday after battling lung cancer for two months. He has been the soul of Sonet Club and has given many big stars not only to Delhi Cricket but also to India from here.
read this also
T20 WC IND vs SCO: What will the Indian team do if Afghanistan loses to New Zealand? Jadeja gave a funny answer
IND vs SCO: Know what captain Virat Kohli said after Team India's thumping win
.

[ad_2]