Sports
Captain Sanju called him 'Brett Lee' on Kartik Tyagi's stellar performance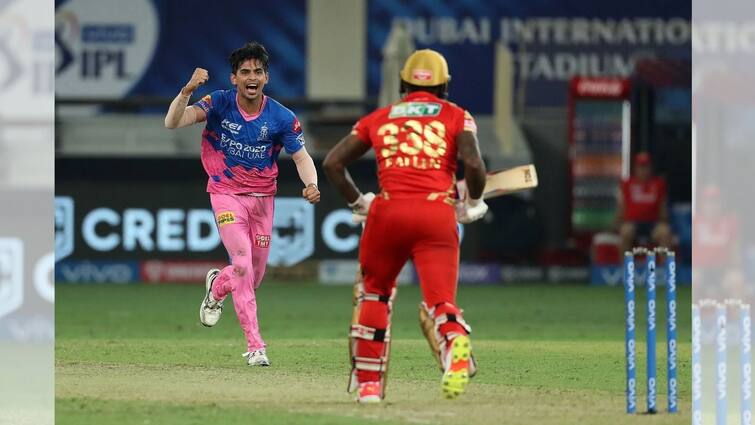 Rajasthan Royals defeated Punjab Kings in the exciting match of IPL held yesterday. In this match, Rajasthan Royals fast bowler Karthik Tyagi bowled brilliantly. While doing the last over for Rajasthan, Karthik Tyagi conceded just one run and took two wonderful wickets. By bowling sharp in his last over, Karthik Tyagi registered a spectacular victory for Rajasthan.
Sanju Samson told Brett Lee
Karthik Tyagi's brilliant bowling got his team to victory, since this brilliant spell, Karthik Tyagi is constantly being praised. Praising Karthik Tyagi's bowling, Rajasthan Royals captain Sanju Samson has compared him with Australia's legendary fast bowler Brett Lee.
While bowling for Rajasthan in the match held in Dubai on Tuesday, Karthik Tyagi conceded just 29 runs in four overs and took two important wickets. He took both these wickets in the last over and gave victory to his team. Punjab needed only four runs in the last over in this match, but Karthik Tyagi did not allow the Punjab batsmen to score four runs with the wide yorker ball and won the match by two runs.
Rajasthan Royals shared the video
After registering a spectacular victory in the match, Rajasthan Royals shared a stunning video of the dressing room on Instagram. After the victory, everyone was praising Karthik Tyagi, it can be seen clearly in this video. At the same time, in this video, Captain Samson called him as Brett Lee.
At the same time, Rajasthan opener and his Indian Under-19 co-player Yashasvi Jaiswal, who batted brilliantly in this match, was also seen patting Karthik's back.
Read also:
Sanju Samson got into trouble despite winning, so fined lakhs of rupees
PM Modi leaves for America, special eye on meeting President Biden on September 24
.