Sports
Bengaluru Bulls reached the top of the points table by defeating Telugu Titans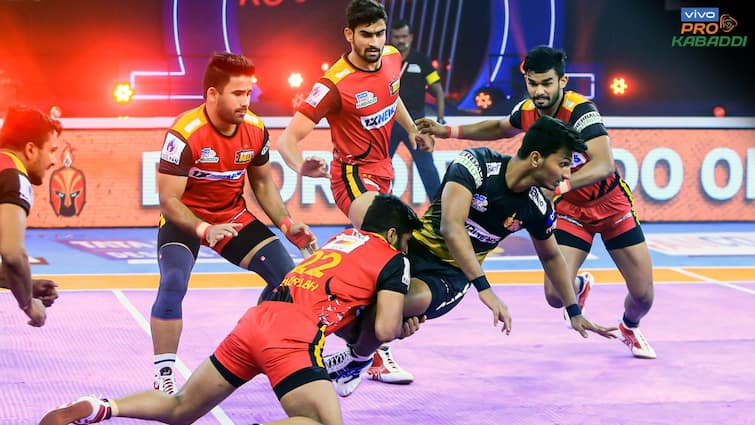 Pro Kabaddi league Season 8, Telugu Titans vs Bengaluru Bulls: Bengaluru Bulls defeated Telugu Titans by 36-31 in the 74th match of Pro Kabaddi League season 8 played at Sheraton Grand Whitefield in Bangalore on Sunday. With this win, Bulls have occupied the first position in the points table.
Telugu Titans has never been able to beat the Bulls since Season 4. In this match, Pawan Sehrawat completed the 10th Super 10 of this season, while Akash Chaudhary completed his High-5 on behalf of Titans. Bulls' defense also performed brilliantly in this match, with Saurabh Nandal and Aman getting 4-4 ​​tackle points. This is the 10th defeat of Telugu Titans in this season.
Bulls start with a bang
Bengaluru Bulls won the toss and Rakesh Gowda made the first raid for Telugu Titans, although he could not score points. On the other hand, the storm of Pawan Sehrawat took place and took the Bulls 4-0 by taking 4 consecutive points. Telugu, playing without Rajnish, struggled in the raid and remained consistently behind.
In the 10th minute, Bengaluru Bulls all-out Telugu Titans took a 12-5 lead. Pawan Sehrawat completed his Super 10 by touching Surender Singh with his hand. At the end of the first half, Bengaluru Bulls took a 22-11 lead. In the first half, Telugu Titans were lagging behind in every department. They had scored only 8 points in raiding against Bulls' 14, and took three points in defence.
titus tried to come back
In the second half, the defense of Titans tried to come back after getting some points in the beginning. Rohit took the team to 16 points by taking two consecutive points in the raid. In the second half, some mistakes were also seen from the defense of the Bulls. Adarsh ​​T dismissed Mahender Singh and brought the Bulls close to all-out. After this, Titans announced their return by tackling Bharat. Akash Chaudhary tackled Pawan Sehrawat for the third time in this match and made the score 29-25.
Surender Singh was dismissed by Bharat and made him return to the mat. Akash completed his high-5 by tackling Bharat. In the second half, Pawan was not allowed to run at all and reduced the lead of 11 points to just 4 points. When the match ended, the match was won by 36-31.
Pro Kabaddi League: These are the five defenders who completed the most high-5 in Pro Kabaddi season 8, Manjit Chillar out of top-5
Pro Kabaddi: These are the five players who hit the most Super 10s in Pro Kabaddi season 8, Pardeep Narwal out of top-5
,