Sports
Bengaluru Bulls beat Gujarat Giants to make it to the top of the points table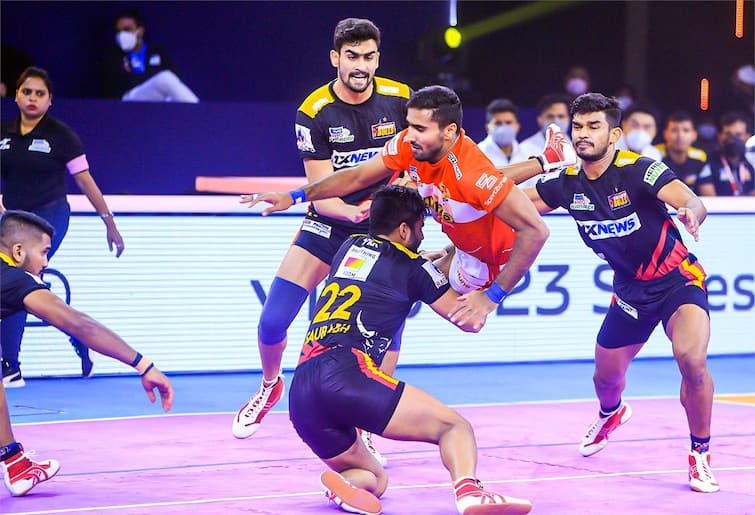 Pro Kabaddi league Season 8, Gujarat Giants vs Bengaluru Bulls, In the 54th match of Pro Kabaddi League season 8 played at the Sheraton Grand Whitefield in Bangalore on Friday, Gujarat Giants were defeated by Bengaluru Bulls 46-37. With this win, Bengaluru Bulls reached the first position in the points table. Pawan Sehrawat completed Super 10 in this match and got Green Sleeves by getting the most raid points. HS Rakesh completed Super 10 for Gujarat Giants. Parvesh Bhainswal, Sunil Kumar and Ankit together got 10 tackle points. Pardeep Kumar got 6 raid points. The Zits will remain in the 11th position in the points table.
Tight fight between the two teams
Gujarat Giants won the toss and Gujarat made their intentions clear by giving Pawan Sehrawat a brilliant dash in the very first raid. HS Rakesh took a dip and gave Gujarat the second point. Bharat made a successful raid and got Pawan Sehrawat back on the mat and he opened his account with a bonus as soon as he arrived. Pawan took two more points and put the Bulls ahead by two points in the match. HS Rakesh did the first Super Raid of the match and put Gujraj ahead 7-6. After this, Pawan did a super raid and gave the Bulls a 10-7 lead. Pawan raided and made Gujarat all out. After this Parvesh Bhainswal stopped the wind storm and sent him out of the mat. Bharat again made him return and as soon as Pawan came, he took two points to lead the Bulls from 21-15 and completed his 7th Super 10 of the season. Gujarat took a point via bonus but Bulls were ahead 22-17 after the first half.
Pawan wrote the story of victory
At the beginning of the second half, Gujarat gave the team two more points by doing a Super Tackle but Pawan dismissed the Right Corner. After this Pardeep Kumar did a super tackle but Parvesh Bhainswal went into the lobby and Pawan got another point. Sunil Kumar tried again with a super tackle and got Pawan out of the mat. HS Rakesh completed his Super 10 and leveled the Giants 24-24. Tackling Rakesh, the Bulls got the Gujarat Giants all out for the second time and took a 31-26 lead. After this, for the third time in a row, Saurabh Nandal tackled Rakesh and gave the Bulls a three-point lead. Pawan dismissed Pardeep and got the Giants out for the third time in the match and ensured the victory of Bengaluru Bulls. When the match ended, the Bulls won the match 46-37.
Pro Kabaddi League 2021-22: In the history of Pro Kabaddi, these five defenders who have beaten the raiders have not been effective this year
Pro Kabaddi League: Naveen Kumar, who made many new records this season, also left Pardeep Narwal and Maninder Singh behind
,