Sports
Avani Lekhara's story of depression, struggle and moving forward with determination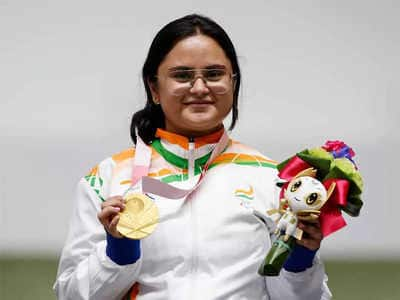 Avni Lakhera Wins Gold Medal: Avni Lekhara was paralyzed below her waist after a road accident in February 2012. Since then, her journey till winning the gold medal at Tokyo Paralympic has become a success story of overcoming depression and moving forward with determination. It is such a success story in which his father has no words to express his happiness. Avani won the gold medal at the Tokyo Paralympics on Monday by securing first place in the women's R-2 10m Air Rifle Standing SH1. The 19-year-old shooter from Jaipur has become the first Indian female player to win a gold medal at the Paralympics.
Avni's father Praveen Lekhara said on the daughter's success that he has no words to express his happiness. Praveen is in government service here. Avni was a victim of a car accident on 20 February 2012, when she was only 11 years old. In this accident, the spinal cord suffered a severe injury and his body was paralyzed below his waist. Since then he is in wheelchair support. Praveen Lekhara said, 'Before the accident she was very active and used to participate in every activity but the accident changed her life. She was furious at her condition and hardly wanted to talk to anyone. For a change, I took him to the JDA shooting range in Jagatpura, Jaipur, where he developed an interest in shooting.
Biography of Abhinav Bindra
Praveen told that he also gave the biography of shooter Abhinav Bindra to Avni and after reading it, Avni thought that she could also shoot and from April 2015 she started going to the shooting range almost regularly. According to the father, however, initially he had to face difficulties in wielding a wheelchair which was not as per the norms. Apart from this, the gun and shooting kit were also not available.
He said, 'However, the coach gave full support and he started performing well. With her determination, she excelled in sports and won gold medal at state level and bronze medal at national level in 2015. This was just the beginning and today she has won the gold medal in Paralympics, which was highly expected. Ever since the news of her daughter illuminating the name of the country, Lekhara has been flooded with phone calls.
Ashok Gehlot congratulated
At the same time, Chief Minister Ashok Gehlot tweeted, 'Avni Lekhara of the state for winning gold in Tokyo Paralympics Rs. Will.' He said, 'All the three players have already been given appointment on the post of ACF in the forest department of the state government. The players of the state have brought laurels to the country and the state by winning medals, we are very proud of them.
Congratulating the players, Gehlot said, "Heartfelt congratulations to Avni Lekhara of Jaipur for creating history for India by winning the gold medal in women's 10m air rifle in shooting competition. The whole country is very proud of him. It is a very good day for Indian sports. "We are very proud of Rajasthan Paralympic javelin thrower Devendra Jhajharia who won silver medal and Sundar Singh Gurjar won bronze medal at Tokyo Paralympic Games. It's a wonderful moment.'
According to a statement issued by Gehlot, the state government is giving appointments to the state services on the basis of 'out of turn policy' to the medal winning sportspersons in the state to promote sports. Avani Lekhara, Devendra Jhajharia and Sundar Gurjar, who won medals in Tokyo Paralympic Games, have been appointed by the state government as Assistant Conservator of Forests in the Forest Department on out-of-turn basis.
Read also:
On winning the gold medal of Avani, President Kovind said – happiness in the whole country due to your brilliant performance
Avani Lekhara Wins Gold: India's Para Shooter Avani Lekhara Creates History, Wins Gold With Paralympic Record
.