Sports
AUS vs NZ, T20 World Cup Final: These 6 players can change the direction and direction of the match at any time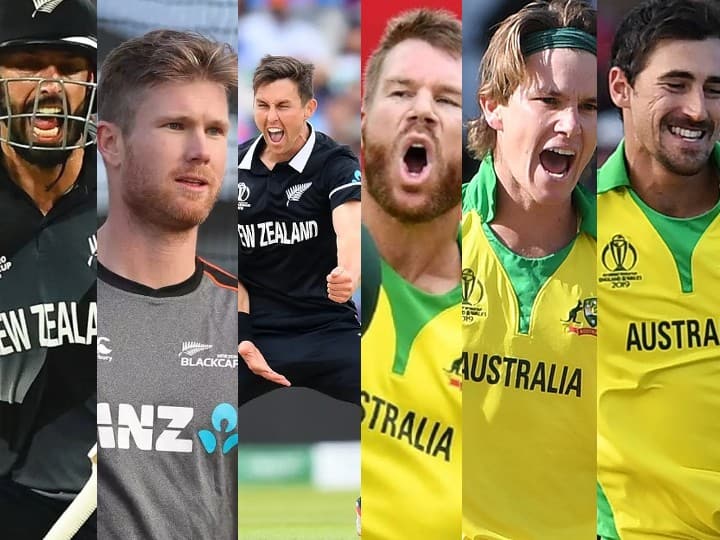 T20 World Cup Final 2021: The final match of T20 World Cup 2021 will be played at Dubai International Stadium today. In this match to be held between Australia and New Zealand, all the players of both the teams will try their best, but there will be some selected players who will be eyeing them all the time. These are the players who have the ability to lift their team from the worst of the situation. Who are these players who changed the condition and direction of the match? Read here…
James Neesham: Showing amazing with both ball and bat
At one point in the semi-final match of the T20 World Cup 2021, New Zealand needed 57 runs in 24 balls. In the 17th over, Neesham faced Jordan's balls. In this over, Neesham hit boundaries and scored 19 runs. Jordan's line length deteriorated so much that he also gave 4 extra runs in this over. In this way 23 runs came out in this over. This over proved to be the turning point of the match and New Zealand registered victory with one over left.
Whenever Neesham got a chance, he scored runs in this tournament. In the do or die match against Afghanistan too, Neesham took 35 runs in 23 balls and took 1 wicket for 6 runs in the bowling. He was the man of the match of this match. He has batted 4 times in the last 6 matches, in which he has been unbeaten 2 times.
Darrell Mitchell: The man who led New Zealand to the T20 World Cup for the first time
Darrell Mitchell is New Zealand's lead scorer in this World Cup. He has scored 197 runs in 6 matches at an average of 40. His strike rate has also been 140. In the semi-final match against England, when 20 runs were needed from 12 balls, Mitchell scored 20 runs in 6 balls to give victory to the team. In this match, he played an unbeaten innings of 72 runs in 47 balls. He has been consistently taking wickets for the team in bowling as well.
Trent Boult: Most wickets for New Zealand in this World Cup
New Zealand fast bowler Trent Boult is the fourth highest wicket-taker in this World Cup. He has taken 11 wickets in 6 matches. The economy rate of Bolt has also been less than 7 during this period. He took 3 wickets for 17 runs against Afghanistan in the group stage. By winning this important match, New Zealand had confirmed the ticket to the semi-finals. Against Team India too, Bolt took 3 wickets and made it easy for New Zealand to win.
David Warner: His bat is continuously spewing runs
While chasing the target of 177 against Pakistan, when Australia lost the wicket of Captain Finch for one run, Warner took over the team. He did not allow pressure on Australia by playing an innings of 49 runs in 30 balls. Against the West Indies in the group stage, he scored 89 runs in 56 balls. Warner's bat has run fiercely in this World Cup. He has scored 236 runs in 6 matches so far. In this World Cup, he is on the fourth position in terms of scoring runs. The responsibility of a good start for Australia rests on his shoulders.
Adam Zampa: Highest wicket-taker in the World Cup
Zampa is the lead bowler of the tournament. He has taken 12 wickets in 6 matches. In every match, he has been taking wickets for the team. Against Bangladesh, he took 5 wickets for just 19 runs. He was the man of the match against Bangladesh and Sri Lanka. In this tournament, he has given less than 6 runs per over.
Mitchell Starc: You can turn the match dice at any time
New Zealand were very close to victory against Australia in a group stage match of the 2015 World Cup. New Zealand needed just 80 runs to win in 33 overs and had 9 wickets left. From here, Starc made the match exciting by sending 6 players from New Zealand to the pavilion one after the other. Australia will expect some similar performance from Starc this time as well. He has been the second most successful bowler of Australia in this World Cup. In 6 matches, he has sent 9 batsmen to the pavilion.
Read also..
Cricket Memories: Australia vs New Zealand three unforgettable clashes of cricket..
T20 World Cup Final: New Zealand avenged the defeat of the 2019 World Cup final, now preparing to settle the account of 2015
,