Sports
Ajay Thakur's Tamil Thalaivas will come out to mess with Pardeep Narwal's UP Yoddha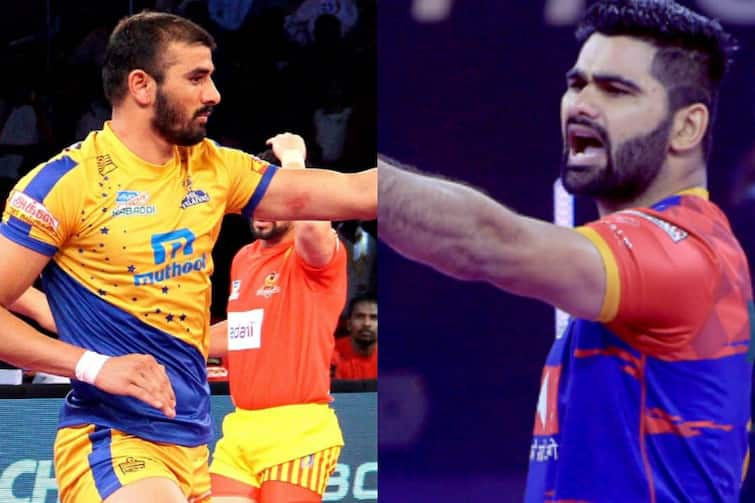 Pro Kabaddi League Season 8, UP Yoddha vs Tamil Thalaivas: UP Yoddha will face Tamil Thalaivas in the 33rd match of Pro Kabaddi League Season 8 at Sheraton Grand Whitefield in Bengaluru on Tuesday. Both the teams have played 5-5 matches so far in this season, in which both have got one win each. Tamil Thalaivas have tied three matches and they have to face defeat in only one match. Whereas UP Yoddha has to face defeat twice and have tied two matches. Both the teams have not lost from the last two matches. It has to be seen that which team's invincible streak continues in this match and which team will have to face defeat. This match will start at 8:30 pm, which you can watch live on Star Sports Networks and Hotstar.
Pardeep two steps away from another record
UP Yoddha, who played a 28-28 tie against U Mumba in their last match, has got only one win so far. Although there are many players in the team who are in excellent form, but it is very important for the defenders to walk with the raiders. Red Machine Pardeep Narwal will become the first PKL player to score 1,200 raid points by scoring just 2 raid points in this match. This season Pardeep Narwal has also completed two Super 10s so far. With him Surender Gill is contributing significantly to the team with 29 raid points and three tackle points. If we talk about defence, Sumit Sangwan remains the top defender for UP Yoddha with 17 tackle points, he also completed High-5 against U Mumba.
Thalaivas are looking forward to their second win
The fate of Tamil Thalaivas, who lost only one match out of 5 this season, turns around in the last moments of the match and the match won ends in a draw. Manjeet is the top raider of Tamil Thalaivas, who has scored 42 points, which includes 39 raid points. He has also achieved Super 10. Team captain Surjeet Singh and Sagar are in good form and both have made 15 tackles. Whereas in the match against Sagar's Dabang Delhi KC, High 5 has further strengthened the defense of Talaivaz. The absence of Ajay Thakur in the last moments of the team can change the course of the match.
Both the teams have played 8 matches so far, in which Tamil Thalaivas have won twice and UP warriors have won thrice. If seen, the competition between the two teams is almost barbaric. Whichever team wins in this match will strengthen its position in the points table.
Pro Kabaddi League: In view of India's incredible performance in this competition, Pro Kabaddi League started
Not only this, no one becomes a showman: 'Red Machine' Rahul Chaudhary of Pro Kabaddi League has made many records, but this thing makes him different
,