Sports
11th tie in Pro Kabaddi Season 8, Warriors and Mumba tie ends at 32-32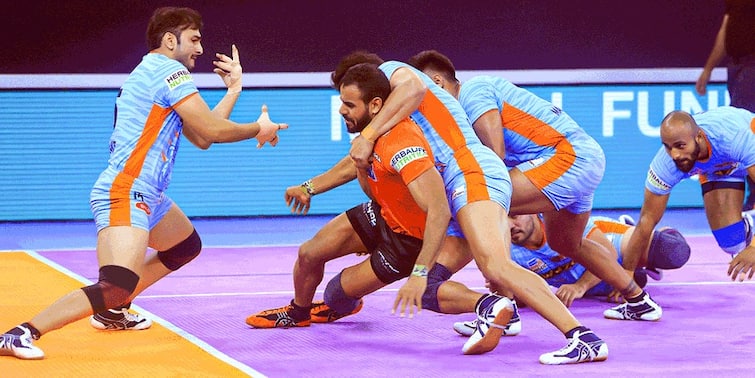 Pro Kabaddi league Season 8, U Mumba vs Bengal Warriors, The 57th match of Pro Kabaddi League season 8 played at the Sheraton Grand Whitefield in Bengaluru on Saturday ended in a 32-32 draw between U Mumba and Bengal Warriors. With this tie, Mumba has moved up to the sixth position in the points table, while Bengal Warriors has also moved up one place to the 8th position. Maninder Singh was the player to get the most raid points in this match, while Abhishek Singh got 13 raid points for Mumba. Amit Nirwal and Abozar Mighani made 3-3 successful tackles for Bengal Warriors, while Mumba captain Fazal Atrachali also managed to get three tackle points.
Mumba's defense could not stop Maninder
U Mumba won the toss and Maninder Singh came to Bengal for the first raid but could not open the team's account. Abhishek Singh got the first point for Mumba by doing the first raid. In the Do or Die raid, Maninder opened the team's account with a bonus but Ashish Sangwan took him out of the mat with a tackle. After this, the raiders of both the teams continuously tried to score points in the raid. Maninder Singh did Super Raid and put Bengal ahead 11-6. Maninder had scored 4 points in this raid. Maninder Singh completed his 8th consecutive Super 10 raid of this season by doing another successful raid. Bengal Warriors went ahead 18-15 by getting U Mumba all out before half time. At the end of the first half, Bengal was ahead 19-18.
Abhishek Singh snatched victory from Warriors
At the beginning of the second half too, the responsibility of getting points in the raid for Bengal Warriors was on Maninder Singh. On the other hand, Abhishek Singh equalized for Mumba by scoring consecutive points in the raid. Maninder Singh again dismissed two defenders to put Bengal ahead 25-22. There was 10 minutes of play left in the second half and till now all the raid points for the Warriors were achieved by Maninder Singh. Abojar and Ran Singh made two tackles each. For Mumba, Rahul Sethpal was showing all-round play and had scored 7 points. The last 4 minutes of play were left and Bengal Warriors were ahead 32-18 but Abhishek Singh completed his Super 10 with two successive raids. Mumba's defense was not giving points and Abhishek took another point in the last raid to end the match at 32-32.
Pro Kabaddi League: Naveen Kumar, who made many new records this season, also left Pardeep Narwal and Maninder Singh behind
Pro Kabaddi League 2021-22: These four teams will have easy access to the playoffs of Pro Kabaddi League Season 8
,